Russians protest against law banning US adoptions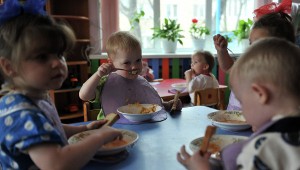 Thousands of Muscovites protested against a new law banning US adoptions of Russian children on Sunday, in a sign that the Kremlin may have overstepped the mark in its diplomatic tit-for-tat with Washington.
Russia's parliament rushed to push through the adoption ban before January 1 in response to a newly enacted US law that forbids Russians accused of human rights abuse from travelling to the US or owning assets there.
More than 130,000 people have signed a petition to demand the law's reversal.
Protesters came to the rally on Sunday carrying stuffed animals and holding placards with slogans such as: "Only terrorists can make hostages out of defenceless children."
"The children who live in the Russian orphanages here, in their lives they experience every horror," said one protester, Olga Tyonova. "There is an absence of order, an absence of justice and an absence of humanism."
According to protest organisers, between 30,000 and 50,000 people attended the rally. Police put the figure at 9,500.
Though the numbers were significantly smaller than the initial anti-government protests which took off a year ago and attracted more than 100,000, there were signs that the adoption ban had angered a new demographic of people who had not previously taken part in the Moscow opposition movement.
"I've never been to one of the protests before. I watched them, I listened to the news about them, but I never came," said Lidiya, an accountant who declined to give her last name. "My family doesn't even know I'm here – I told them I was going to work."
The new "anti-orphan law" had changed her mind about the protest movement, she said. "I couldn't not come now."
While the ban was resoundingly passed by the duma, which voted for the measure 400 to 4, it was criticised by members of the political elite including foreign minister Sergei Lavrov and deputy prime minister Olga Golodets.
"There was a period where people were tired of coming out [on to the streets] but with the recent events it's impossible to sit at home," said Larisa Shopinova, an office manager. "For those who were against, but didn't come out earlier, now they have come out. It's an "anti-humane law", she added.
A survey by the Public Opinion Foundation in December found that 56 per cent of Russians supported the new law. However, that level of support was called into support by a different statistic in the same poll. Only 22 per cent of people said foreign adoption should be prohibited, while 53 per cent said they just wanted foreign adoption procedures to become stricter.
Vladimir Putin has stood by the law, which is named in honour of a Russian toddler who died from heatstroke after being left unattended by his adoptive American father in the car. But the president's spokesman, Dmitry Peskov, announced last week that Russia would allow certain adoptions that had already been approved by the courts to go through in 2013.
Currently there are about 50 adoptions by US families under way in Russia, however, not all of them have received court approval.
Financial Times
Photo Russian orphans