Women named to the Saudi Shura council for first time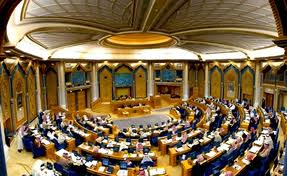 King Abdullah in Abdul Aziz of Saudi Arabia issued Friday a historic decree allowing women to be members of in the kingdom's previously all-male Shura Council for the first time.
Soon after his decree which amended an article in the council's statute introducing a 20 percent quota for women in the country's 150-member Shura Council, the king fully appointed 30 women to join the consultative assembly.
The assembly, which is appointed by the king, works as the formal advisory body of Saudi Arabia. It can propose draft laws and forward them to the king who can pass or enforce them.
Saudi Arabia is known for its conservative culture where women are not allowed to drive vehicles despite that there is no law banning to them from driving. King Abdullah has introduced cautious economic and social reforms aimed at reconciling Saudi Arabia's religious traditions with the needs of a modern economy and youthful population.
The king issued two amendments to the statute of the council:
First amendment: Article 3
The Shura Council constitutes of 150 members, chosen by the king among scholars, experts and specialists, with women's representation to be no less than 20 percent of the number of members. The rights of members and their obligations and all their affairs are defined by a royal decree.
Second amendment — Article 22
First, each committee of the specialized committees constitutes of a number of members defined by the council, but should not be less than five. The council chooses these members and names the head of the committee and his deputy among them taking into consideration the committees' need, the specialization of the member and the women's participation in the committees.
Second, the council can form among its members special committees to study a particular subject, and each committee has the right to form among its members a branch committee or more to study a particular subject.
Third, the woman enjoys in her membership at the Shura Council complete membership rights and abides by the obligations, and responsibilities and assumes tasks.
Fourth, in confirmation of what was stated in the preamble of this decree of ours, the woman member commits to the principles of Islamic Shariah without any breach whatsoever and observes proper hijab taking into account especially the following:
1: Reserving a place for the woman to sit, as well as her own gate for entry and exit in the main Council Chamber, and everything related to her affairs to ensure independence from men.
2: Reserving places for women, fully independent from places reserved for men, to include offices for them and for employees with required equipment and services, and space for prayer.
Fifth: This decree of ours is to be delivered to specialized parties for adoption and implementation.
Al Arabiya