Will Assad offer a solution to the crisis in Sunday speech?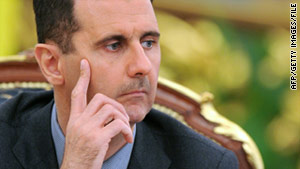 Syrian President Bashar Assad will deliver a speech on Sunday in a rare address to the nation, state media said, as rebels fighting to topple his embattled regime pressed ahead with an offensive on the capital.
The official SANA news agency said in a brief statement Saturday that Assad will speak about the latest developments in Syria. The speech would be the first by the leader since June, and comes amid intense fighting between government troops and rebels on the outskirts of Damascus.
Assad has rarely spoken in public since the uprising against him began in March 2011. In each of his previous speeches and interviews, the president has dug in his heels even as Western powers have moved to boost the opposition in Syria's civil war.
In his last public comments, Assad vowed in an interview with Russia Today on Nov. 8 that he would "live and die in Syria."
Fighting has raged for weeks in the neighborhoods and towns around Damascus that have been opposition strongholds since the Syrian revolt began. The uprising started with peaceful protests but morphed into a civil war that has killed more than 60,000 people, according to a recent United Nations recent estimate.
The rebels are trying to push through the government's heavy defenses in Damascus, prompting the regime to unleash a withering assault on the suburbs that has included intense barrages by artillery and warplanes.
Diplomatic efforts to end the Syrian crisis have failed so far to bring an end to the bloodshed, although the international community continues to push for a peaceful settlement.
On Saturday, Saudi Arabia's Foreign Minister Saud al-Faisal told reporters after a meeting with his Egyptian counterpart in Riyadh that there should be an immediate end to the bloodshed in Syria and called for a peaceful political transition.
Saudi Arabia and Egypt have both called on Assad to step down, and Riyadh has also been an outspoken supporter of the rebels.
The president of the U.N. Security Council said Thursday there are important developments in efforts to find a diplomatic solution to the 21-month conflict in Syria and there could be another U.S.-Russia meeting with international envoy Lakhdar Brahimi next week.
Brahimi and Russian Foreign Minister Sergey Lavrov both said after their meeting last Saturday that the Syrian crisis can only be settled through talks, while admitting that neither the government nor the opposition has shown a desire to compromise. Neither official hinted at a possible solution that would persuade the two sides to agree to a ceasefire and sit down for talks about a political transition.
But Lavrov said Syrian President Bashar Assad has no intention of stepping down — a key opposition demand — and it would be impossible to try to persuade him otherwise. Russia is a close ally of the Syrian government, and has shielded it from punitive measures at the U.N.
It was not clear what kind of initiative, if any, Assad may offer in his speech.
Meanwhile the violence continued unabated Saturday.
Rebels and government troops clashed in suburbs south of Damascus, including Harasta and Daraya, the Britain-based Syrian Observatory for Human Rights said. Fighting in Daraya alone left 10 dead, including six rebels, according to the Observatory, which relies on reports by activists on the ground.
The army dispatched fresh reinforcements to Daraya, part of an offensive aimed at dislodging rebels from the district, located just a few kilometers (miles) from a strategic military air base west of the capital, the Observatory said. Regaining control of Daraya would provide a boost to the regime's defense of Damascus.
Government troops also arrested several residents in raids in the suburb of Qatana, the Observatory said. Fighting was also heavy in the central province of Hama, Idlib, and in the southern part of the country, in Daraa, the birthplace of the Syrian uprising. Besides the deaths in Daraya, 35 people were killed around the country, the group said.
There was also fighting on the road to the Damascus International Airport, which has not been functioning since last month when clashes first erupted on the airport road, and international airlines have yet to resume flights to the capital. Airport officials have said the facility is open, but have not said which flights are operating.
Rebels frequently target government officials for assassination, and have killed several regime figures since the revolt began, including a suicide bombing in December that wounded Interior Minister Mohammed al-Shaar. After the Dec. 12 blast, al-Shaar was secretly sent to neighboring Lebanon for treatment of a back injury, but was rushed out of a Beirut hospital and back home two weeks later for fear of being arrested by Lebanese authorities.
On Saturday, SANA denied reports that al-Shaar had died, saying the minister is "in good health and recovering."
State media also said Syrian journalist Suheil al-Ali who worked for the Dunya pro-government television station died Friday of wounds sustained in a shooting attack in the suburbs of Damascus four days ago. The SANA state news agency blamed a "terrorist," the term the government uses for those trying to topple Assad.
In Tehran, Syrian Deputy Foreign Minister Faisal Mekdad discussed the conflict and ways to end it with Iranian Foreign Minister Ali Akbar Salehi, Iranian State TV said. Iran is one of Syria's strongest allies.
The conflict has increasingly taken sectarian overtones, with predominantly Sunni Muslim rebels fighting the ruling regime that is dominated by Alawites, an offshoot group of Shiite Islam.
Also on Saturday, an Arab League official said the group's foreign ministers will hold an emergency meeting in the coming days in Cairo to discuss ways to assist Syrian refugees in Lebanon. The official spoke on condition of anonymity because he was not authorized to release the information.
More than half a million Syrians have fled violence and sought shelter in neighboring countries, including some 130,000 to Lebanon. The country's government has requested $180 million from international donors to help its efforts with refugees.
Associated Press