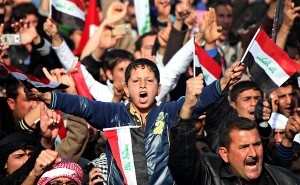 A political crisis facing the Shiite-led government of Prime Minister Nuri Kamal al-Maliki of Iraq appeared to escalate on Friday, as more political rivals called for his resignation and for early elections. In addition to the political arena, demand for change echoed in the streets as demonstrators expanded protests in major Iraqi cities.Mr.
Maliki, a Shiite, has come under fire in recent weeks for measures that some lawmakers and political opponents, especially rival Sunnis but also some Shiites, see as an attempt to sideline them and monopolize power leading up to provincial elections that are scheduled for April. They will be the first elections in Iraq without the presence of American forces since the overthrow of Saddam Hussein.
Tempers were further inflamed after a raid last month by security forces on the office and home of the Sunni finance minister, Rafie al-Issawi, and the arrest of 10 bodyguards.
On Friday, two prominent members of Iraqiya, a largely Sunni bloc of lawmakers, said Mr. Maliki should step down.
"The option of early elections will avoid many problems," Saleh al-Mutlaq, a deputy prime minister who is a Sunni, said in a statement on Friday. "The current government must hand in its resignation."
Ayad Allawi, the leader of Iraqiya but a secular Shiite, said in a televised statement that the current government was incapable of change and "must submit its resignation so the Iraqi political powers can find solutions for the problems."
A media adviser for Mr. Maliki, Ali al-Musawi, expressed support for earlier elections, saying the government had tried to address the grievances.
"In a normal state, the opposition will be the ones that call for early elections or dissolving" the government, he said in a telephone interview when asked about the developments. "Now we are calling for dissolving them."
There was no immediate response from Mr. Maliki's party, Dawa, which is part of the broader, Shiite-dominated National Alliance.
For early elections to take place, about a third of the country's 325 Parliament members are first required to call for the matter to be discussed. A majority vote is then needed to dissolve Parliament and to require a caretaker government to hold elections within 60 days.
Mr. Maliki's government has had a troubled run since 2010, when Mr. Maliki gained a second term as prime minister after months of political wrangling in the wake of inconclusive parliamentary election results. Accusations that he was trying to grab power and undermine Sunnis and other rivals have repeatedly cropped up, as Iraq lurches from one crisis to another in what has at times seemed like the brink of civil war.
Sunni ministers in the Iraqiya bloc boycotted Parliament about a year ago after an arrest warrant was issued for the Sunni vice president, Tariq al-Hashimi, on terrorism charges, and after Mr. Maliki tried to fire Mr. Mutlaq for calling Mr. Maliki a dictator in the press. Mr. Hashimi fled the country, was convicted in absentia and was sentenced to death.
Memories of Mr. Maliki's campaign against Mr. Hashimi were revived during the December raid on Mr. Issawi, which stirred accusations that once again a Sunni leader was being targeted by the Shiite-dominated government and touched off protests.
Other developments have threatened to hinder Iraq's efforts at reconciliation. In the north, tensions with the Kurds escalated after Mr. Maliki sent soldiers to the region in what was seen as an attempt to assert control. The soldiers remain there in a standoff with Kurdish forces.
Whether or not early elections are called, it appears the contenders are already jockeying for position. This week, a populist leader, Moktada al-Sadr, blamed Mr. Maliki for the unrest and expressed support for the demonstrations in largely Sunni areas like Anbar Province, which he compared to the Arab Spring movements that swept through the Middle East, although he criticized the display of posters of Mr. Hussein at some of the rallies.
Mr. Sadr, who is part of a prominent Shiite clerical family, has been trying to test the political waters by inviting cross-sectarian alliances, and on Friday he visited a Christian church and a Sunni shrine in Baghdad, while also saying he was willing to send a team to join demonstrators in Anbar Province, or go himself.
In Anbar, a major trade route to Syria and Jordan has been blocked, and on Friday demonstrations reignited there, as well as in Tikrit, in Mosul and in a Baghdad mosque. Demands included the release of female detainees, cancellation of an article of an antiterrorism law that Sunnis see as used particularly against them, and resignations of Mr. Maliki and other government officials. Mr. Maliki had urged demonstrators to stop or face a crackdown, saying they were being manipulated by groups intent on harming national unity. But on Friday, he said security forces would not allow themselves to be provoked by protesters.
"Today we are on the threshold of provincial elections, which are the first in Iraq without the presence of foreign forces," he said in a statement. "That requires people to pay attention that some parties are trying to use the demonstrations in the election race."
In Baghdad, security forces prevented protesters from spilling out of the Sunni mosque of Abu Hanifa and into the street after prayers, saying they did not have permission.
"I know that the government will not respond to our demands, but I am out today to tell the world what is happening to us," said Asad Mahmood, 50, a demonstrator.
NY Times