Gemayel wants M14 MPs to pay for their hotel bill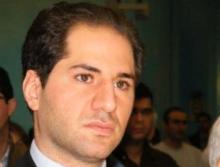 Phalange Party coordinator MP Sami Gemayel proposed that the March 14 opposition lawmakers pay the fees of their stay at a hotel near the parliament to attend the parliamentary subcommittee meetings aimed at discussing the new electoral draft law.
"The Lebanese shouldn't carry yet another burden when they lack their simplest rights," sources quoted Gemayel as saying and stressing that the parliament lacks the required budget to cover the hotel expenses of the opposition MPs.
The electoral subcommittee will convene on January 8 to discuss the electoral law during a one-week timeframe although Speaker Nabih Berri said he was willing to extend its meetings if the MPs were serious about reaching a deal.
March 14 MP Robert Ghanem who heads the committee will head these meetings.
Last week Berri proposed that March 14 members of the committee should reside at a secure five star hotel near the parliament in downtown Beirut, as a safety precaution, to meet with the Joint Parliamentary Committees' members and discuss the 2013 electoral law.
Several March 14 MPs have been threatened with assassination following the murder of Internal Security Forces Intelligence Bureau head Maj. Gen. Wissam al-Hassan on October 19 . March 14 MPs accused Hezbollah and Syria of being behind Hassan's assassination and decided to boycot the national dialogue sessions and government-related parliamentary work and demanded the resignation of the cabinet of Prime Minister Najib Mikati.