MP Saqr to demand death penalty for his accusers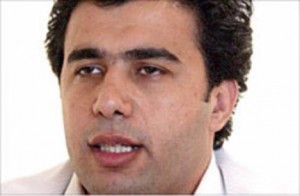 MP Okab Sakr said on Saturday that he will pursue legal action against "all those who were involved in forging the recordings of phone conversations between him and members of the Syrian opposition".
Sakr, a key member of March 14 alliance told Future TV on Saturday: "Those who accused me of manipulating these tape should get the same penalty they demanded I should receive and which is death penalty".
Sakr commended New TV for proving that he was right all along about his accusers.
"New TV has been a witness to the truth and has defended it," Sakr said
New TV aired a report on Friday which revealed that the audios played by Sakr during a press conference he held in Istanbul are not forged.
New TV channel had sent these tapes to Audio Forestec Services, a British company that specializes in audio detection, to examine whether they have been manipulated or not.
"The results of the testing revealed that these tapes are not forged but are original copies," NEW TV stated in its report
Sakr said "New TV's judgment means that the audiotapes played on other media channels have in fact been doctored," the MP stressed
OTV and al-Akhbar newspaper, both closely associated with Syria and the Hezbollah-led March 8 majority coalition, broadcast and printed a three-part series of recordings in which Sakr allegedly discussed arrangements to ship arms supplies to the Syrian opposition.
Sakr held a press conference in Istanbul challenging the Syrian government and its Lebanese allies to prove that he was indeed providing rebels with weapons.
During the press conference, Sakr said the audiotapes were stolen from two computers and were taken out of context
The MP broadcast instead several of the original tapes. In one of them he told a rebel identified as Abu Nehman that he supported the Syrian revolution but did not provide arms to the rebels after the man asked for "iron."
Sakr said he was negotiating with Abu Nehman the release of the remaining Lebanese pilgrims kidnapped in Syria's Aazaz but OTV and al-Akhbar cut the recordings to accuse him that he was striking an arms deal.
Lebanese attorney Rashad Salameh filed a lawsuit Tuesday in a Beirut court against Sakr, accusing him of "acts of terror," including jeopardizing Syria's security.
Salameh who was is representing the Syrian regime in this legal case submitted the lawsuit to Prosecutor Hatem Madi's office