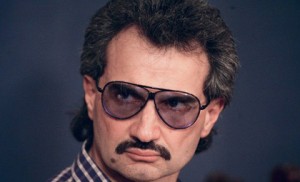 Saudi billionaire Prince Al Waleed Bin Talal will be taking delivery of the world's first customised A380 superjumbo, dubbed "the flying palace" for its luxury.
The grandson of former Lebanese PM Riad el Solh, who is #29 on Forbes Billionaires list has reportedly paid $485 million for the world's biggest private jet .
The A380 jumbo is believed to include four-poster beds, a Turkish bath, storage space for a Rolls-Royce, a boardroom, a concert hall, five suites with king-size beds, a prayer room featuring "computer generated prayer mats" which face Makkah and an elevator between floors on all three levels.
Airbus Middle East president Habib Fekih confirmed on the sidelines of an aviation conference in Dubai that the aircraft would be delivered to the Saudi billionaire next year. "The A380 is planned for next year, 2013," he said.