U.N. warns Lebanese against interfering in Syria conflict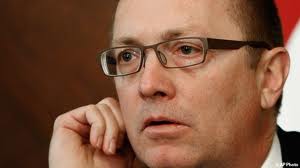 The reported participation of Lebanese fighters on both sides of the escalating Syrian conflict violates the country's policy of not interfering in Syria's civil war and creates risks for Lebanon, the U.N. political affairs chief said on Wednesday.
The remarks from U.N. Under-Secretary-General for Political Affairs Jeffrey Feltman came in a bleak assessment of the situation in Syria, in which he said that "if nothing is done to change the current dynamic, and to move toward a political solution, the destruction of Syria will be the likely outcome."
Feltman's report to the 15-nation Security Council came after the United Nations appealed for $1.5 billion to provide life-saving aid to millions of Syrians suffering in a "dramatically deteriorating" humanitarian situation in a conflict that has killed over 40,000 people.
"The situation in Lebanon remains severely affected by the ongoing conflict in Syria," Feltman said at a council meeting on the Middle East. "Cross-border shelling and arms smuggling continue."
"Multiple reports suggest there are Lebanese implicated in Syria's violence, both on the side of the Assad regime and the opposition," he said. "This violates the Lebanese government's 'disassociation' policy and puts Lebanon increasingly at risk."
U.N. officials say Syrian President Bashar al-Assad continues to exercise his country's historic influence in Lebanon, despite the 2005 departure of thousands of Syrian troops and intelligence operatives from Lebanese soil. Many in north Lebanon say their army takes orders from Damascus.
Lebanese authorities and security institutions have a long history of collaboration with and domination by Damascus. Lebanon is deeply divided over the conflict.
The United Nations has repeatedly said that Syria's 21-month-long conflict has the potential to severely destabilize Lebanon, a tiny country still recovering from its own 15-year civil war, which ended in 1990. Recent months have seen clashes between supporters of the rebels and opponents of the uprising.
'NO MILITARY SOLUTION'
Lebanon's former Prime Minister Saad al-Hariri, son of slain statesman Rafik al-Hariri, has openly criticized the Lebanese government's disassociation policy.
Hariri, whose Lebanese unity government was toppled in January last year when pro-Assad parties pulled out of the cabinet, has been an active opponent of the Syrian president since Syria's uprising erupted 20 months ago.
Last week Syria said it issued arrest warrants against former Lebanese prime minister Saad al-Hariri and a close political ally for "terrorist crimes" of financing and arming rebels fighting to oust Assad.
Separately, U.N. Secretary-General Ban Ki-moon told reporters on Wednesday that "both parties (in Syria) must realize there is no military solution."
"This crisis should be resolved through political dialogue," he said.
U.N. diplomats and officials, however, say privately that it may be too late for a negotiated solution in a conflict that looks increasingly deadlocked, with neither government forces nor the rebels in a position to deal a death blow to the other.
Ban welcomed recent efforts by the Syrian opposition to overcome its divisions, saying it was a "critical" development.
"I am deeply concerned about the increased militarization of the conflict and the potential for sectarian atrocities," he said.
He called on countries to support U.N.-Arab League peace envoy Lakhdar Brahimi, who has tried but failed so far to get Russia and the United States to overcome their differences on Syria that have prevented the Security Council from taking any meaningful action in the conflict.
Syria's staunch ally and arms supplier Russia, supported by China, has vetoed three Security Council resolutions condemning Assad and has said that it strongly opposes the idea of sanctioning Assad's government. Council diplomats say there are no signs Moscow is softening its position on Syria in New York.
Syria has accused Saudi Arabia, Qatar, Turkey, the United States and France of funding and arming the rebels, an allegation the five countries have denied. U.N. diplomats and officials, however, say that weapons are clearly reaching the rebels via Gulf Arab states and Turkey.