MP Ghanem: influx of Syrians, palestinians a" time bomb"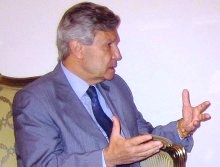 MP Robert Ghanem who heads the Administrative and Justice Parliamentary Committee told Future television on Wednesday said that the influx of Syrian and Palestinian refugees into Lebanon have become a social and political "time bomb."
"Lebanon is not capable of sheltering all the refugees," MP Ghanem said.
The opposition March 14 MP also called on the cabinet to "draw the attention of international organizations to provide aid for the [refugees]."
More than 150,000 Syrian refugees are registered with the UNHCR in Lebanon; some activists, however, say the actual number is much more than double
According to UN figures, more than 20,000 Syrian refugees are estimated to arrive every month in Lebanon.
Thousands of Palestinians alos entered Lebanon following the bombardment for the first time on Sunday of Yarmouk refugee camp by the Syrian warplanes
Palestinian President Mahmud Abbas on Wednesday urged the international community to help Palestinian refugees fleeing fighting in camps in Syria to enter the West Bank and Gaza.
Syria has 12 Palestinian refugee camps which house over half a million people