UN may deploy up to 10,000 peacekeepers in Syria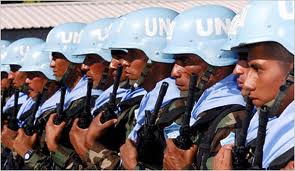 Russian media reported that the UN is considering the deployment of 4,000 to 10,000 peacekeepers in Syria as an emergency measure. This comes as the US along with over 100 countries recognized the Syrian National Coalition.
The UN is putting together a contingency plan should the Security Council give the go-ahead for involvement in the embattled nation, reported Russian news agency Ria Novosti, citing sources in the UN.
"The problem is that the UN does not have any resources to spare at the moment. We would have to relocate some of the 115,000 peacekeepers currently deployed in different countries and send them to Syria," an anonymous source told Ria Novosti.
The source went on to say that the team of peacemakers would be made up of observers and civilian units as well as troops. The civilian mission would ensure that basic human rights are being observed in Syria.
UN-Arab League envoy to Syria Lakhdar Brahimi has signaled the need for a peacekeeper mission to the embattled nation to push for a ceasefire between opposition groups and government forces.
"A truce will not hold unless there are observers there to ensure it. I think that it requires the deployment of a peacekeeping mission," said Brahimi at the end of November.
In recent weeks the international community has been stepping up rhetoric concerning the Syrian conflict.
Germany and the Netherlands will deploy Patriot missiles on the Turkish-Syrian border at the beginning of 2013 as part of a NATO deal to minimize fallout from the conflict into Turkey.
According to reports the deal also stipulates the deployment of 400 American troops and two patriot missile batteries along the Turkish-Syria border.
NATO has assured that the missiles are purely for defensive purposes and the protection of Turkish civilians.
The US also followed suit with Britain, France and the Gulf Arab states, recognizing the new Syrian opposition coalition group as the representative of the country on Tuesday.
RT