Syria VP admits that neither side can win war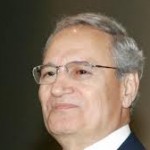 Syria's vice president has said a "historic settlement", involving the formation of a national unity government, was needed to end the 21-month conflict in the country.
Farouq al-Sharaa told a Lebanese newspaper that neither the forces of President Bashar al-Assad nor opposition fighters were able to win the war in Syria.
Sharaa said the situation in the country was heading from bad to worse, al-Akhbar newspaper cited him as saying in its Monday edition.
Sharaa, a Sunni Muslim figure in the minority Alawite-led regime, has served in top posts for almost 30 years.
The latest development came as Iran, Syria's main ally, said it was backing presidential elections in the war-torn country as part of a six-point plan outlined on Sunday to halt the violence.
The plan, described by state media and Iranian news agencies, also calls for efforts to halt the flow of weapons into Syria and to hold talks that include the government of President Assad.
Iran in the past has offered initiatives to end the Syrian bloodshed, but none are likely to gain any momentum with the main rebel forces who suspect Tehran for its close ties to Assad regime.
Keeping Assad in power
On Saturday, Iran's Foreign Minister Ali Akbar Salehi said Iran would do all it could to keep Assad in power.
The latest proposals were offered during the opening of a two-day conference that includes 200 Syrian religious and political figures and envoys from countries including Syrian neighbours Turkey, Iraq and Lebanon, according to the semi-official Fars news agency.
Key Syrian rebel figures did not attend.
Fars said the plan included efforts to halt the flow of arms into Syria, an apparent reference to rebel backing by rival nations, including Turkey and Gulf Arab states such as Qatar and Saudi Arabia. Iran also is believed to supply Assad's military with assistance.
Later steps include a creating a transitional government to lead Syria toward parliamentary and presidential elections. The reports gave no indication whether Assad could seek to remain in power under the Iran-backed plan.
In the statement, Iran also called for release of political prisoners and reconstruction of areas damaged in the fighting.
Iran's Supreme Leader Ayatollah Ali Khamenei has called on the Syrian rebel forces to end the uprising and hold talks with Assad – a move that's been soundly rejected by opposition leaders.
'End nearing for Assad'
Meanwhile, Laurent Fabius, the French foreign minister, has said he believed Assad would fall soon and that the new opposition coalition had to be supported to prevent extremists taking control.
"I think that the end is nearing for Bashar al-Assad …even the Russians are considering it," Fabius told RFI radio.
France, one of Assad's harshest critics, was the first Western country to recognise the new Syrian National Coalition as the legitimate representative of the Syrian people.
Western powers and Arab nations recognised Syria's new opposition coalition as the legitimate representative of the Syrian people at talks in Morocco last week, but feelings about arming the rebels are mixed.
Many Western powers are reticent about sending weapons because they believe that some rebel groups, notably the al-Nusra Front, have links to al-Qaeda and will seek to impose Islamic law if they succeed in toppling Assad.
In a further sign of an escalation on the ground, Syrian fighter jets bombed the Palestinian Yarmouk district in Damascus on Sunday, killing at least 25 people sheltering in a mosque in an area where Syrian rebels have been trying to advance into the capital, opposition activists said.
Al Jazeera