Syria issues arrest warrant against Ex-PM Hariri / Sakr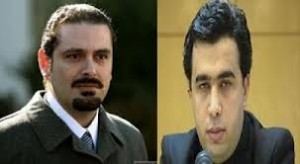 Al Hayat newspaper reported that the Syrian regime authorities issued arrest warrants against former Lebanese PM Saad Hariri, Future Movement MP Okab Sakr and Media Coordinator for Free Syrian Army Luay al-Miqdad .
Syria sent the arrest warrants to the following countries: Saudi Arabia , UAE, Tunisia, Algeria, Muscat , Iraq ,Kuwait Soudan and Qatar but did not send to Libya, Yemen and Egypt or Lebanon . Excluding some Arab countries fueled debates.
This development comes after the Baath Party in Lebanon accused Hariri of fueling the tensions and killings in Syria, and held him responsible for bloodshed in the crisis-hit neighboring country.
MP Sakr was also accused of supplying arms to Free Syrian army, which he denied