Rebels seize base, force Syrian army soldiers to flee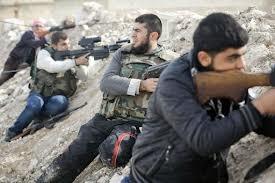 Rebel groups including a hardline Islamist unit seized a government army command center in northern Syria on Sunday, forcing more than 100 soldiers to flee, a monitoring group said.
Jabhat al-Nusra, a group suspected of having links with al Qaeda, helped rebels take over the site – part of the 111th regiment base in the Sheikh Suleiman region of Aleppoprovince, which is on the country's northern border with Turkey, said the Syrian Observatory for Human Rights.
Some fighters on the rebel and army side were killed, while around 140 soldiers fled to another military site in the area, the Observatory added.
Sheikh Suleiman sprawls over nearly 200 hectares (500 acres) of rocky hills about 25 kilometres (15 miles) from Aleppo city, an area now almost completely under rebel control.
More than 42,000 people have been killed since the uprising against President Bashar al-Assad's rule erupted in March last year, according to the Observatory's figures.
Reuters