7 Lebanese army members wounded in Tripoli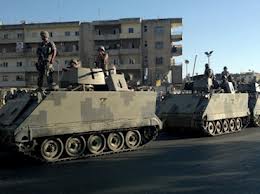 The Lebanese army revealed that seven of its members were wounded in the port city of Tripoli clashes on Thursday night.
"Some of the army units suffered from sniper fire which led to seven army members getting slightly wounded and military vehicles getting damaged," the army said in a statement on Friday.
The Lebanese army deployed reinforcements Friday morning in Tripoli following a night of heavy armed clashes between gunmen loyal to opposing sides in neighboring Syria's civil war, but with 13 dead and more than 60 wounded so far there are fears that the fighting risks dragging Lebanon into the mayhem of Syria's sectarian conflict.
The army also reported the arrest of "a number of suspects after raiding their hideouts and finding arms, ammunition, and military material in their possession."
The army also called on citizens to cooperate fully with the army forces procedures and immediately report any arms or suspicious activity.
Tripoli has repeatedly been the scene of sectarian conflict linked to the troubles in Syria between pro- and anti-Syrian regime gunmen from Sunni and Alawite groups, whose rival districts — Bab al-Tabbaneh and Jabal Mohsen, respectively — are divided by the main thoroughfare Syria Street.
The Lebanese government has struggled for months to try to limit the repercussions on the country from the vicious warfare raging in Syria and to avoid that country's conflict reviving the Lebanese civil war of 1975 to 1990—a crisis that left 120,000 Lebanese dead and a quarter of the population wounded. One government minister, Faisal Karami, acknowledged, the situation in north Lebanon is becoming "very critical and dangerous."
There were no signs Friday morning that the sectarian violence involving rocket-propelled grenades as well as exchanges of mortar and machine-gun fire is any closer to ending despite the arrival of army reinforcements.