Hillary Clinton is the America's choice for 2016: poll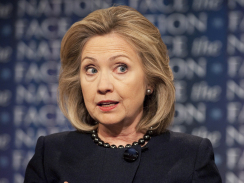 US Secretary of State Hillary Clinton may insist she's leaving politics, but a new poll suggests that most Americans hope she changes her mind.
A solid majority of those surveyed in an ABC News-Washington Post poll – 57 percent – said they would support a 2016 presidential bid by Clinton.
Just 37 percent were opposed to a campaign.
Clinton was boosted by strong support by women and broad approval for her performance leading the State Department, the poll found.
The 66 percent of women who said they would support her candidacy included white women and married women – two groups President Obama lost.
Majorities of white men and married men, however, said they would oppose a Clinton campaign.
Unsurprisingly, the results were also split politically. More than 80 percent of Democrats said they would support a Clinton bid, while Republican support stood at 23 percent.
Clinton has claimed she is not interested in another run at the White House after she steps down from the State Department, but a movement to draft her for 2016 has gained steam since Election Day.
Democratic National Committee Chairwoman Debbie Wasserman Schultz told MSNBC on Tuesday that she believes Clinton can be swayed to run.
"We'll give her a little bit of time to rest, and then I'm sure that she'll be pressed into service," Schultz said. "Knowing Secretary Clinton, I'm sure she doesn't plan to rest very long."
NY Daily News