How Syria internet outage happened,what it means ?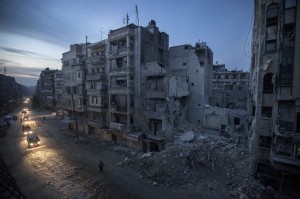 As Syria's Internet and phone blackout goes into its second day, fears are building that Syrians who have relied on smartphones, YouTube and social networks throughout the two-year uprising will be cut off from their primary methods of communication.
Though the rebels and the Syrian government blamed each other for the prolonged outage, most technology experts believe Syrian authorities caused the blackout to try to impede the rebels' interactions and online broadcasts of the fighting.
Rob Faris, research director at Harvard University's Berkman Center for Internet & Society, told the Huffington Post that the Syrian authorities likely tweaked routing tables, essentially re-mapping where Internet addresses lead and thereby blocking the transference of information.
The tech blog Cloudflare also speculates that the blackout was deliberate, rather than caused by a technical failure, as Syrian authorities have said.
"While we cannot know for sure, our network team estimates that Syria likely has a small number of edge routers. All the edge routers are controlled by Syrian Telecommunications. The systematic way in which routes were withdrawn suggests that this was done through updates in router configurations, not through a physical failure or cable cut."
Some are trying to find loopholes around the outage. Protesters in the town of Kafranbel used a satellite connection to post video of a demonstration.
Meanwhile, Google is promoting its Speak2Tweet product, which allows those who still have a phone connection to leave voice messages that the company will then tweet. In a release, Google said the service was successfully used during Egypt's protests last year.
According to Web monitoring firm Renesys, some Syrian servers have survived the outage because they are located offshore. Renesys also has an interesting map of the three submarine connections to Syria, as well as a chart showing that until Thursday's outage, Syrian Internet had been almost completely stable: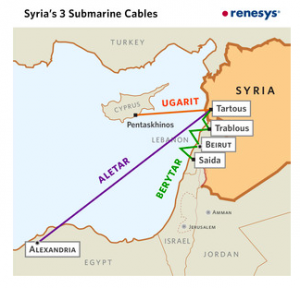 Internet freedom advocates warned that the consequences of the blackout could be devastating.
Middle east blogger Karl Sharro pointed out on Twitter that the Syrian government's attack on the city of Hama in 1982 was preceded by communication disruptions.
Throughout the current conflict, the Syrian government has occasionally shut down Internet services in specific regions right before launching attacks. On at least two other occasions, the outages were national in scope, The Washington Post reported.
Global hacking collective Anonymous said it would shut down Syrian government sites around the world in response to the blackout. Reuters reported:
Anonymous, a loose affiliation of hacking groups that opposes Internet censorship, said it will remove from the Internet all web assets belonging to Assad's government that are outside Syria, starting with embassies.
By 1000 GMT on Friday, the website for Syria's embassy in Belgium was down but the embassy in China – which Anonymous said it would target first – was operating. Most government ministry websites were down although this could be due to the blackout.
Human rights group Amnesty International wrote in a blog post that the outage might stifle any news of atrocities in Syria:
"As fighting intensifies, particularly around Damascus, we are extremely worried that the news that internet and mobile phone services appear to have been cut throughout Syria may herald the intention of the Syrian authorities to shield the truth of what is happening in the country from the outside world," Amnesty International Middle East and North Africa Deputy Director Ann Harrison said in a statement.
Washington Post