Jarrah: The other party cannot keep on assassinating its rivals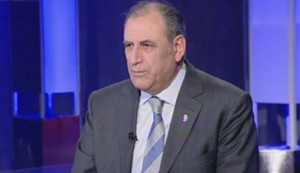 March 14 MP Jamal al-Jarrah, a key member of the Future Movement parliamentary bloc told LBC on Thursday that the "other party" should understand that it cannot keep getting rid of its rivals through political assassinations or thorough imposing its will by force of arms. "If they have a problem with the Taif agreement or with quotas, let them say it clearly."
This was a possible reference to Hezbollah militant group which along with Syria were accused of being behind the assassination of Internal Security intelligence chief Brig General Wissam al Hassan, who was closely associated with the March 14 alliance.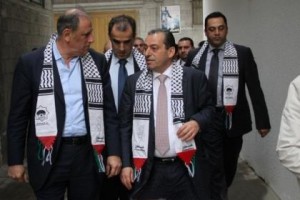 Commenting on the visit of the March 14 delegation to Gaza, Jarrah said that it aimed at showing solidarity with Palestinians who faced an atrocious Israeli offensive. "They conveyed a message of support and stressed the importance of unity among Palestinians since it is the only means to achieving their goals."
During an interview on LBC's Nharkom Said TV program Jarrah said that the delegation was warmly welcomed by the Palestinian leaders in Gaza, whether in the legislative council or in the government. "MP Antoine Zahra was welcomed and highly appreciated… this infuriated and provoked some March 8 leaders who want to monopolize the resistance and accuse all those who have a different opinion of being traitors," he said.
Jarrah stressed that the slogan "Gaza triumphed by using Iranian weapons" is unfounded. "This was the opinion of Hamas' leader Ismail Haniyeh who stressed that the victory was achieved thanks to the Palestinians' capacities and the rockets which were developed in Gaza by Palestinians."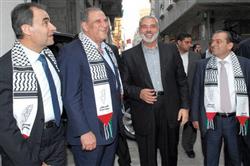 Jarrah also said that Hamas left Damascus since it could no longer be be loyal to its principles as a resistance movement. "It cannot stand with the oppressor against the oppressed, as Iran or Hezbollah do."
The March 14 delegation to Gaza included Lebanese Forces MP Antoine Zahra, future Bloc MPs Jamal al-Jarrah and Amine Wehbe along with nine journalists who arrived to Gaza from Egypt through the Rafah crossing.
LBC
updated report