George H.W. Bush hospitalized, report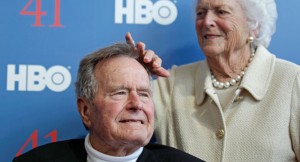 Former President George H.W. Bush is in the hospital, the Houston Chronicle reported Thursday.
Bush, 88, is at Houston's Methodist Hospital receiving treatment for a "chronic cough," his chief of staff, Jean Becker, told the Chronicle.
His condition is not life-threatening, she said.
"His big problem is a chronic cough, he can't get rid of so he's back at Methodist," she said in the piece. "This is not a life-threatening illness."
The article noted that he arrived there last week and that he has bronchitis, but is expected to be released this weekend.
He was visited on Sunday by his son, former President George W. Bush, and former First Lady Laura Bush, according to the report.
politico