Syria's Assad sends message to Venezuela's Chavez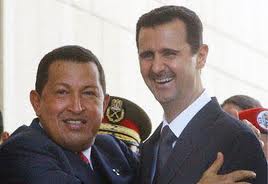 A senior Syrian diplomat visited Venezuela on Tuesday bringing a private message to President Hugo Chavez from his ally Syrian leader Bashar Assad.
Syrian Deputy Foreign Minister Faisal Al Mokdad didn't give details about Assad's message to Chavez, saying only that it deals with relations between the two leaders. Chavez has been a vocal defender of Assad, and has accused the U.S. and its allies of provoking violence during the conflict in Syria to try to topple its government.
The Syrian diplomat spoke at a news conference in Caracas as he began a Latin American tour that will also take him to Cuba, Nicaragua and Ecuador.
Venezuelan officials have previously acknowledged that the state oil company has sent three shipments of diesel fuel to aid Syria.
Asked if Syria plans to request more fuel from Venezuela, the diplomat didn't respond, saying through an interpreter: "Relations between Venezuela and Syria are very advanced, and we're showing our thanks… for the support offered economically and politically."
His visit came as a U.N. committee overwhelmingly approved a resolution strongly condemning "gross violations of human rights and fundamental freedoms" by Syrian authorities and government-controlled militias.
According to activists, some 40,000 people have been killed since March 2011 in Syria's conflict.
Neighbouring Turkey, fearing a spillover of the civil war, has said a delegation of Turkish and NATO officials will start surveying sites for the possible deployment of Patriot missiles on its border with Syria.
Al Mokdad expressed concern about that possibility, saying his government hopes there is no act of "provocation on the part of Turkey or NATO."
Edmonton Journal