Egypt faces Risks over the $4.8 Billion IMF Loan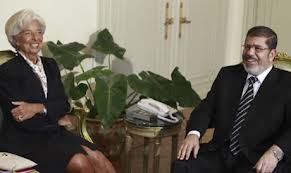 The International Monetary Fund Tuesday warned Egypt that any major changes to the country's economic policy or outlook would prevent approval of a $4.8 billion loan deal reached earlier this month.
"The staff-level agreement on financial support from the IMF is based on the economic and social policies that the government plans to implement under its program," fund spokeswoman Wafa Amr said in an emailed statement.
"Consideration of the agreement by the IMF Executive Board will require that there is no major change in the economic outlook and implementation plans," Ms. Amr said. Those plans include prior passage of Cairo's revised budget, and "assurances from Egypt's bilateral and multilateral partners regarding their expected provision of program financing will be forthcoming," she said.
The IMF was responding to questions about whether President Mohammed Morsi's recent move to expand his power through a constitutional declaration puts at risk the preliminary loan agreement reached last week.
Tens of thousands of Egyptians opposed to the president's move gathered Monday at Tahrir Square, the symbolic heart of the Egyptian political revolution, voicing outrage over what many secularists and liberals said was a blatant power-grab by Islamist politicians.
One of the major reasons for a months-long delay in reaching a bailout loan agreement was the fund's insistence on gaining broad political support for an economic program.
The IMF's No. 2 official David Lipton warned in a blog post Tuesday that Middle East and North African nations risk a downward spiral of economic decay if the political revolutions in the region fail to stabilize and implement vital changes to their economies.
The region faces "economic deterioration, if squabbling over political power prevents stabilization, let alone reform," Mr. Lipton said.
Another, almost-as-dire option is for the so-called Arab Awakening to revert back to the previous economic stasis. That would mean deeply vested business interests offer "respite from eroding economic conditions, but condemn the region to a return to economic stagnation or at best tepid growth," he said.
WSJ