Critics wonder if Morsy is Egypt's next dictator, after power grab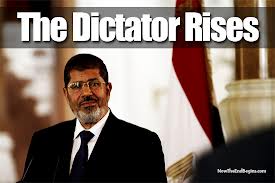 Egyptians swarmed Cairo's Tahrir Square Tuesday, seeking to revive a democratic groundswell that swept the country's former strongman from power nearly two years ago and demand that the man they chose to replace him respect their wishes.
At least one protester died in early clashes with authorities ahead of the massive demonstrations planned for later Tuesday, the Ministry of Health said. The opposition Popular Alliance Party said the protester suffocated after inhaling excessive amounts of tear gas.
Protesters are angry with President Mohamed Morsy for his declaration last week that his edicts are beyond the reach of judges in what critics call an unprecedented power grab. A statement Monday night that seemed to at least partially limit the scope of the decree did not seem to salve their anger.
Protesters want to show that "the whole population of Egypt is against" Morsy and his supporters, said former Finance Minister Samir Radwan.
Morsy and his supporters in the powerful Muslim Brotherhood movement have defended the policy as necessary to defend the fragile Arab Spring revolution that pushed former President Hosni Mubarak from power and led to the country's first free elections.
The Muslim Brotherhood scrapped its own demonstration to show support for Morsy — also scheduled for Tuesday — "to avoid any problems due to tension in the political arena," said spokesman Mahmoud Ghozlan.
Morsy's Freedom and Justice Party is the political arm of the Muslim Brotherhood, the once-banned Islamist movement.
Tuesday's opposition protests are expected to go ahead despite the clarification of the president's edict.
Morsy "did not give himself judicial power" but did provide "immunity for his presidential decisions," said Jihad Haddad, a senior adviser in the Freedom and Justice Party.
He added that "the president himself (is) not immune from judicial oversight," though it wasn't clear in what instances that would come into practice, or if there was anything preventing Morsy from issuing a new decree so this could not happen.
Morsy already has the powers of president and legislature after courts upheld the former ruling military council's decision to dissolve parliament. But it was his edict last week — declaring, among other things, that judges can't overturn his decisions or interfere with a Muslim Brotherhood-dominated council writing a new constitution — that caused anger to boil over.
Morsy insists he's trying to protect Egypt's fragile Arab Spring revolution, not accumulate unchecked power. His moves "cemented the process that would create the institutions that would limit his power, define the constitution and have parliamentary elections so that we can say this is a democracy," said Haddad.
Edict divides Egypt, unifies opponents
But that's not how his political foes — seen as "heretics" by many members of the Muslim Brotherhood, according to Washington Institute for Near East Policy fellow Eric Trager — look at the situation.
Former U.S. diplomat Jamie Rubin said Morsy's edict "brings to mind all the fears that people in that part of the world have had about the Muslim Brotherhood when it comes to democracy."
Amr Hamzawy, who'd been in the now-dissolved parliament, said action is needed to prevent more "suffering" under a president with "sweeping powers," as Egypt had for 60 years under men like Mubarak, Anwar Sadat and Gamal Nasser.
"Morsy is the … president who has sweeping executive (power), sweeping legislative (power) and … puts himself above the judicial branch of government," said Hamzawy, founder of Egypt's Freedom Party. "That is a very dangerous mix, which can only lead to a dictatorship."
Intent on not letting that happen, people around the country have staged protests and stormed Muslim Brotherhood offices over the past six days — sometimes with violent results, with hundreds being reported injured and one killed in confrontations with security forces and Morsy's backers.