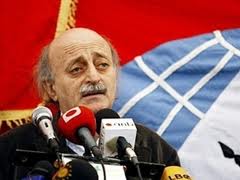 Progressive Socialist Party leader MP Walid Jumblatt  revealed on Monday his initiative for ending Lebanon tension  which calls for   rejecting the use of  Lebanon by Iran to improve  its negotiating  position with the western countries over its nuclear program, and  rejecting the use of Lebanon  as a base  to   fight Iran.
"Lebanon is not the Gaza Strip; we do not want the Islamic Republic  of Iran  to use Lebanon to improve improve  its negotiating  position with the US, and we do not want some of the Arab  countries  to use Lebanon to fight Iran," Jumblatt said.
There is growing concern in Lebanon and the Arab world that Iran is increasingly  trying to rely  on the use of militant groups such as Hezbollah in Lebanon and Hamas in Gaza to improve its negotiating  position with the US and the west  over its nuclear program.
Hezbollah chief Sayyed Hassan Nasrallah defended Iran during the weekend and warned against regarding it as an enemy . Nasrallah also boasted about Hezbollah's capabilities  and warned Israel that he has rockets to reach every  one of its cities .
Here is a summary of Jumblatt's initiative :
–  He  reiterated the importance of Dialogue to resolve the current political impasse in Lebanon.
"Only dialogue can serve Lebanon, and not fiery rhetoric," Jumblatt said
– He  called for  following  the advice of international powers over the change of government in Lebanon , "which says  that the cabinet can be changed only if the circumstances were suitable for such change."
– He stressed if efforts fail to form a national unity cabinet  and if the current cabinet  falls, he would still nominate Prime Minister Najib Mikati  to form a new cabinet.
– He  called for abiding by the disassociation policy  and  accused  Hezbollah and some March 14 parties  of  continuing to  participate in the conflict in neighboring Syria.
"The resistance [Hezbollah] is not abiding by the disassociation policy slogan… and some of the March 14 parties fight in Syria [without realizing that] they are tools in a conflict that is greater than Lebanon," Jumblatt said.
– Jumblatt  cautioned against  reminding  Hezbollah at every occasion that its  members were indicted by the UN-backed Special Tribunal for Lebanon for involvement in in the murder of former Prime Minister Rafiq Hariri.
"Is it necessary to remind  Hezbollah of  STL's indictment every time and everywhere? Don't some people realize that this reminder would further increase the split between the two [Muslim] sects?" Jumblatt asked.
He called on Hezbollah to present the proof  it claimed it has on Israeli involvement in Hariri murder  to the UN backed tribunal and urged the militant group to go to the court and defend its members
The Netherlands-based court indicted four Hezbollah members in Hariri's killing. However, Hezbollah strongly denied the charges and continues to refuse  to cooperate with the court.
This error message is only visible to WordPress admins
Error: No connected account.
Please go to the Instagram Feed settings page to connect an account.