Nasrallah denies the 5 Syrians planned to attack the Shiites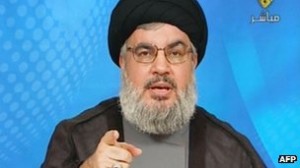 Hezbollah Secretary General Sheikh Hassan Nasrallah on Saturday admitted  that five Syrians were arrested in Nabatiyeh with "arms" in their possession, but denied reports claiming that the group was planning  to use the explosives to attack the Shiite mourners marking Ashoura on  Sunday .
In a speech marking the ninth day of  Ashoura Nasrallah said:
"Five Syrians have been detained possessing arms but we already know that many Syrians arrive in Lebanon to buy weapons." A possible reference to the Syrian rebels  who are fighting the Syrian regime of president Bashar al Assad,  a strong backer of the Hezbollah militant group.
He added the "media reports claiming  that the five Syrians who were detained as they were planning to detonate the explosives in Nabatiyeh are false."
Nasrallah went on to say that nothing would stop the Lebanese Shiites from coming out Sunday to commemorate the Ashoura , despite security threats.
"Neither rainy weather nor security threats will stop us from commemorating Ashoura  and  stand between us and Imam Hussein,"  Nasrallah said
Lebanese soldiers raided an apartment in the city of in Nabatiyeh   in south  Lebanon on Saturday and arrested five Syrian nationals for possession of explosives, the army said, the latest incident fanning fears that Syria's civil war is spilling across the border.
The army  identified the  five men as Khodr Mohammed al-Fnoush, Sheikh Mohammed Saleh al-Fattah, Ahmed Mohammed al-Fnoush, Hussein Farhan al-Fattah and Wael Hussein al-Hassan.
Ashoura ( meaning ten in Arabic)  is a ten day mourning period observed by Shiite Muslims to commemorate the death of Imam Hussein ibn Ali, ( grandson of the Prophet Mohammad), who died at the Battle of Karbala in 680 AD.