Patriarch Rai under fire for defending Hezbollah suspects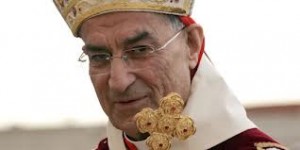 Maronite Patriarch Bechara Boutros al-Rai's got in trouble again with March 14 alliance , this time over defending Hezbollah suspects  who were indicted in the assassination of former Prime Minister Rafik Hariri, by the UN-backed Special Tribunal for Lebanon (STL).
Rai was quoted by the media as saying on Friday  when asked  why the four Hezbollah members indicted in Hariri's assassination  have not yet been handed over to the U.N.-backed Tribunal :
"No party has the right to demand the handover of the accused because the accused is innocent until he is found guilty and the matter is entirely left to the judiciary,"
lawyers representing  the Future Movement, the Lebanese Forces, the  National Bloc  and the "Independent March 14 Lawyers"  responded to Rai's remarks  in a statement :
"The STL's statute's Article 22 and the Rules of Procedures and Evidence's Article 106 stipulate that the court shall conduct trial proceedings in the absence of the accused, if they have not been handed over to the Tribunal by the State, or if they absconded,"
The statement also said that the aforementioned articles "not only stipulate that the accused must  surrender, but also [that] the state concerned must hand them over to the court to be tried duly, and proved innocent or guilty."
The statement also said that "the Lebanese Penal Code requires that any accused must be handed over and detained until a final verdict is issued by the Criminal Court or the Judicial Council."
This is not the first time Rai gets himself in trouble with March 14.
– In an interview  earlier this year with Reuters,  Rai described Assad's Syria as "the closest thing to democracy in the Arab world."
– During his visit    to Paris in September 2011 Rai also came under fire from the opposition March 14 parties but won praise from March 8 politicians for his comments. "Syrian President Bashar al-Assad is open-minded and should be given more chances to implement the reforms".
He also indirectly defended Hezbollah's arms by linking the party's arsenal to the termination of Israeli occupation of Lebanese territory and the return of Palestinian refugees to their homeland . Even MP Walid Jumblatt who defected from March 14 alliance was very critical of Rai's statements."