Iranian speaker heads to Lebanon after meeting Assad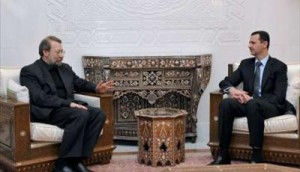 Syrian President Bashar al-Assad received on Friday visiting Iranian parliament speaker, Ali Larijani, who flew in earlier in the day for talks on recent developments in the region and the Syrian crisis.
State television reported the meeting took place between Assad and Larijani for talks aimed at solving the ongoing crisis in Syria.
Before leaving Tehran Larijani said he would "try to find a solution to the Syrian problem" on a regional tour that will also take him to Lebanon and Turkey, Iran's Mehr news agency said.
Larijani was received at the Damascus' international airport by his Syrian counterpart, Jihad al-Laham, who said that the visit of the Iranian official aims to discuss regional and international issues and ways of finding new fields for the interest of the Syrian and Iranian people.
Larigani told reporters at the airport that the militarization of the Syrian crisis would lead to the killing of more Syrians and called instead for achieving democratic reforms.
"Reforms in Syria are essential and they could be done through political dialogue because the militarization of the crisis in Syria would lead to the killing of more people and I think this is wrong," Larijani said.
There are "accelerating" issues in the region, especially in Syria, Turkey and Lebanon, he said, adding that these " developments in the region have special sensitivity after the Zionist aggression on Gaza."
The Iranian official also said Iran has showed support to all resistant Palestinian factions in Palestine.
He, however, said that "there are those who want to make adventure and have created troubles for Syria… and we stress the leading role of Syria in supporting the resistance movements."
Iran and Syria boast their role in supporting the Palestinian armed militia with arms and training over the past years.
On Wednesday in Tehran, the Iranian capital, Larijani said that his country had sent military aid to Islamic Hamas movement in Gaza, which has been locked in a week-long war with Israel before a truce was concluded later.
"We are proud to defend the people of Palestine and Hamas … and that our assistance to them has been both financial and military," Larijani said last week without elaboration.
Iran has supplied Hamas with its Fajr 5 missile, used to target Tel Aviv since an Israeli offensive on Gaza was launched on Nov. 14.
Iran has emerged as a staunch ally to the Syrian government during the 20-months-old crisis.
Last week, Iran hosted a conference for the Syrian opposition and representatives of the Syrian government to find out a common ground for national dialogue between the different spectra of the Syrian people, but the new coalition of the opposition did not send any representatives to the conference.
Violence across Syria on Thursday killed
At least 138 people were killed in Syrian violence on Thursday including 40 rebels, 45 soldiers, 44 civilians and nine Kurdish fighters, according to the Syrian Observatory for Human Rights.
Among those killed was Basel Tawfiq Youssef, a state television reporter shot dead in his neighborhood in south Damascus.
More than 40,000 people have been killed across Syria since the outbreak of the uprising against Assad in March last year, according to the watchdog.
Lebanon visit
Larijani will head to Lebanon Friday following his visit to Damascus and is scheduled to arrive at Rafik Hariri International Airport at 1:30 p.m. local time
He is expected to hold talks with the Palestinian militant factions in the country as well as with Speaker Nabih Berri at his Ain el-Tineh residence.
He is scheduled to hold a news conference at the Mariott Hotel at 7 p.m.
Xinhua/ Agencies