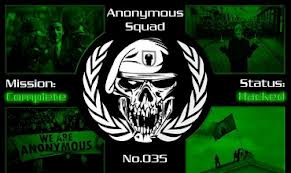 To protest what they call the "barbaric, brutal and despicable treatment of the Palestinian people," hackers from the collective Anonymous have been attacking a number of Israeli Web sites, including Israel's Foreign Ministry and the municipal Web site for Tel Aviv.
The group has also deleted the databases of the Israel Ministry of Foreign Affairs and Bank of Jerusalem, and leaked e-mail addresses and passwords for other sites.
The campaign began Thursday night with coordinated attacks on several Israeli sites, including the Israeli Defense Forces blog and a private Israeli surveillance and security company. By Friday, the group took credit for bringing down 600 Israeli sites, using the hashtag #opisrael to boast about their progress on Twitter.
In a statement, Anonymous said what spurred their campaign was an Israeli government threat to sever Internet and other telecommunications into and out of Gaza.
"We are ANONYMOUS and NO ONE shuts down the Internet on our watch. To the IDF and government of Israel we issue you this warning only once. Do NOT shut down the Internet into the "Occupied Territories", and cease and desist from your terror upon the innocent people of Palestine or you will know the full and unbridled wrath of Anonymous."
The group also provided a digital "Anonymous Gaza Care Package" allegedly containing tips on evading IDF surveillance, basic first aid and other information for Gazans.
The attacks themselves are relatively rudimentary — the group recruits Internet users to flood target Web sites with traffic until they crash — but they can prove difficult to thwart.
"The best the owner of a site under attack can hope for is to get between the targeted site and the attacking site," writes the New York Times' Nicole Perlroth. "But blocking the attack is nearly impossible because of the innumerable sites on the Internet on which Anonymous can post their attack tools."
Washington Post
This error message is only visible to WordPress admins
Error: No connected account.
Please go to the Instagram Feed settings page to connect an account.