Gemayel: Sunni extremism natural reaction to Hezbollah arms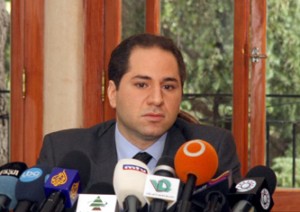 MP Sami Gemayel , a member of Lebanon's Phalange parliamentary bloc slammed Hezbollah's support for the Syrian regime and said it was the reason why March 14 parties have severed ties with the Shiite party.
"Hezbollah's continuing alliance with the Syrian regime, which is publicly killing the Lebanese people, caused March 14 to sever its relations with the party," Gemayel told Free Lebanon radio station on Saturday.
"When Hezbollah decides to deal positively with the other group in the country , then the latter will deal with it in a positive manner," he added.
"The most important positive step is for Hezbollah to concede the decision to start a war to the state."
Gemayel also said that the "militancy" of Salafi Sheikh Ahmad al-Assir was a "natural reaction to Hezbollah's arms, which is something March 14 has been warning about for the past few years."
"Hezbollah is strengthening the extremist Sunni presence at the expense of moderate Sunnis." Gemayel was referring to the clashes in Sidon last Sunday between supporters of the Shiite movement Hezbollah and hardline Sunni cleric Ahmed al-Assir in which 3 people were killed.
Salafists to form militia
Salafist cleric Assir who bitterly opposes Hezbollah's use of arms internally announced on Saturday that he would move to form a military "resistance brigade" in Sidon, but added that its creation would be delayed until more negotiations could be held on the matter.
"Amid the ongoing Israeli threat and [their] attack on Gaza, and since the Lebanese government is unable to agree on a national defense strategy, it has become imperative to form the 'Sidon Resistance Brigade'," Assir said Saturday in a fiery speech in which he lambasted both March 14 and Hezbollah.
"Instead of defending us against Israel , Hezbollah is killing us. That's why we thought of forming this brigade to defend ourselves."