Arab leaders to back Gaza against Israeli aggression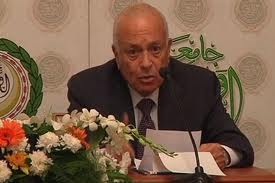 Arab League chief Nabil Elaraby has pledged to support Palestinians against "Israel's aggression" and to end the blockade of Gaza during talks between Arab foreign ministers in Cairo.
The leaders said they will consider a draft statement on Saturday that calls for the Arab League chief to lead a delegation to the Gaza Strip and voices support for Egypt's efforts to negotiate a truce.
Maan News Agency has reported a delegation led by Elaraby, and including Palestinian Foreign Minister Riyad Al-Malki, will visit Gaza on Sunday to show solidarity. Hamas has not yet confirmed the visit.
Saturday's meeting was called for after Israel launched a massive air campaign on Wednesday with the declared aim of deterring Hamas, the Palestinian group which controls Gaza, from launching cross-border rocket salvoes that have plagued southern Israel for years.
Israeli aircraft bombed Hamas government buildings on Saturday in the Palestinian territory, after Israel's cabinet authorised the mobilisation of up to 75,000 reservists, preparing for a possible ground invasion.
Egypt had brokered an informal truce in October, which has since collapsed. It now says it is seeking a new deal.
An Arab diplomatic source, who declined to be named, said the draft to be discussed by the ministers expressed the Cairo-based League's support for Egypt's efforts to achieve a "long-term truce" between Israel and Palestinian factions.
As well as condemning Israel for "aggression" and calling for it to stop attacks, the draft called for Nabil Elaraby, the Arab League secretary-general, to lead a delegation of ministers to Gaza "immediately" to show solidarity with Palestinians.
The ministerial draft also called for the UN Security Council to take the necessary steps to halt the violence and "protect the Palestinian people".
Truce efforts continue
Rafik Abdesslem, Tunisian foreign minister, visited Gaza on Saturday, a day after Hisham Qandil, Egyptian prime minister, crossed the border into the territory, condemning Israeli actions and pledging to work for a truce.
"Israel should understand that many things have changed and that lots of water has run in the Arab river," Abdesslem said as he surveyed Hamas Prime Minister Ismail Haniyeh's office, reduced to rubble in a morning air strike.
Egyptian President Mohamed Morsi was due to hold four-way talks with the Qatari emir, the prime minister of Turkey and Hamas leader Khaled Meshal in Cairo on Saturday to discuss the Gaza crisis, a presidential source said.
Turkish premier Tayyip Erdogan has been an outspoken critic of Israel, and Qatar's emir, Sheikh Hamad bin Khalifa Al Thani, visited Gaza in October, breaking the isolation of the Palestinian group. Both arrived in Egypt earlier on Saturday.
Qatar is to give Egypt $10m to help treat Palestinians wounded in Israeli air strikes on the neighbouring Gaza Strip, state news agency QNA reported on Saturday.
Erdogan, whose trip was planned before the Gaza violence surged, was due to speak at Cairo University on Saturday.
Meshal held talks earlier on Saturday with Egyptian security officials on prospects for a truce.
Morsi, whose Muslim Brotherhood movement is closely aligned with Hamas, recalled his ambassador from Israel and sent his prime minister to Gaza in a show of solidarity.
But he is unlikely to substantially change Egypt's policy on its single border crossing with the territory, which Hamas wants to turn into a trade gateway.
Egyptian officials fear any such move would make them responsible for Gaza's impoverished 1.6 million people, a burden they believe Israel should bear.
And it would alienate Palestinian president Mahmud Abbas, whose Fatah movement Hamas ousted from the territory in deadly fighting in 2007.
In other developments, Jordan's King Abdullah II ordered on Saturday the dispatch of immediate support to Palestinians in the Gaza Strip.
The Jordanian Hashemite Charity Organisation was instructed to "send urgent humanitarian aid to the Palestinian people in Gaza who are facing suffering and difficult living conditions due to Israeli attacks," the royal palace said.
King Abdullah also called for the adoption of "urgent procedures needed to … support the Jordanian military field hospital currently working in the Gaza Strip," the statement said.
The palace said the measures were aimed at providing "all the necessary medical care to children of the brotherly Palestinian people … in view of the difficult circumstances in the face of Israeli aggression".
On Friday, King Abdullah told Hilary Clinton, US secretary of state, in a phone call that he was "deeply worried" about the implications for the whole region of Israel's air strikes on the Gaza Strip.
The king, whose government has a 1994 peace agreement with Israel, has been facing a wave of domestic protests initially sparked by big fuel price increases but which have taken on increasingly political overtones.
Al Jazeera