Brief truce quickly collapses as Egypt's PM visits Gaza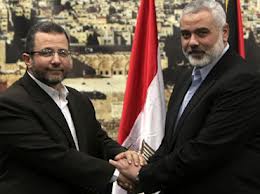 A temporary truce between Israel and Gaza militants during a Friday morning visit by Egyptian Prime Minister Hesham Kandil quickly crumbled as Palestinians continued to lob rockets across the border and Israeli aircraft responded with renewed airstrikes.
In a short tour of the coastal enclave with Hamas Prime Minister Ismail Haniyeh, Kandil visited a hospital treating wounded victims and appeared at a news conference flanked by guards in olive flak jackets.
"This tragedy cannot be ignored, and the whole world has to shoulder the responsibility to stop its aggression," Kandil said, growing emotional as he held up his sleeves to show what he said were spots of blood and described seeing a dead child. "We are standing with you."
One strike during Kandil's visit hit a house, killing a child and a militant inside, Gaza medical officials said. Those deaths raise the Palestinian death toll in Gaza to 21, the officials said. Two Israeli men and one woman were killed Thursday morning when a rocket slammed into their fourth-story apartment in the working-class town of Kiryat Malakhi, about 18 miles north of Gaza.
Kandil's visit followed a night of intense airstrikes, which Israel had promised Thursday evening after Gaza militants targeted the populous Tel Aviv region with rockets. Israeli Defense Minister Ehud Barak warned of exacting a "heavy price; the Israeli military said it hit about 150 rocket-launching sites in Gaza overnight, strikes it said significantly slowed rocket fire. Friday morning, the army announced that it had begun calling up 16,000 reservists for a possible ground operation.
One early morning air strike demolished a Hamas interior ministry building dedicated to public records and other civil issues, not security matters.
A spokesman for Hamas, an Islamist movement that rules Gaza and is considered a terrorist organization by Israel and the United States, said the group's military wing had "surprises" in store and suggested that the arsenal being targeted by Israel was far from crippled.
The conflict comes as Hamas and Israel are seeking new footing in a volatile region that has undergone a metamorphosis — and is still evolving — since the Arab Spring revolutions, which empowered populist strains that largely favor the Palestinian cause. That backdrop is very different from the one against which Israel carried out a punishing three-week assault on Gaza about four years ago. Few analysts expect the ongoing conflict to widen to other countries, but the regional reactions are unpredictable.
Israel, which previously could count on Egyptian autocrat Hosni Mubarak's help in isolating Hamas, is testing fragile relations with the new Islamist government in Egypt after Mubarak's ouster in February, 2011. The Islamist government is allied with Hamas and is under popular pressure to downgrade relations with the Jewish state. Hamas, after years of being shunned, feels emboldened by burgeoning ties with Egypt and other regional players, such as Qatar, and the group has called on Arab countries to form a united opposition against the Israeli occupation.
Regional calculus changes'
The Israeli operation, which the military says is aimed at stopping regular rocket and mortar fire on Israel, began Wednesday with an air strike that killed top Hamas military commander Ahmed al-Jabari in Gaza City. Thousands of Gazans turned out Thursday to mourn Jabari, and Hamas's prime minister in Gaza, Ismail Haniyeh, praised the commander's "martyrdom" in a televised address.
"We call upon the brothers in Egypt to take the measures that will deter this enemy," he said.
Egypt has made gestures of support to Hamas, pulling its ambassador from Israel, opening a border crossing to Gazans and sending the high-level delegation, including Kandil.
President Mohamed Morsi vowed Thursday to stand behind the Palestinians. "The Egyptian people, the Egyptian leadership, the Egyptian government and all of Egypt is standing with all its resources to stop this assault, to prevent the killing and the bloodshed of Palestinians," he said in a televised address.
Warning sirens wailed after sundown in the coastal metropolis of Tel Aviv after at least two rockets — among more than 300 rockets and mortar rounds fired from Gaza since the Israeli operation began Wednesday — sailed toward the city and its suburbs, among the farthest ever fired into Israel by militants in the strip.
Shadi Hamid, research director at the Brookings Doha Center, said, "The whole regional calculus changes now. For the first time, you have Arab governments that have to be responsive to popular sentiment."
But many observers say Egypt — which relies heavily on U.S. aid and is navigating domestic troubles — is loath to get involved in the fighting, a calculation that Israeli officials appear to be banking on.
"If there will be intensification from our side, then Egypt will have to react. But I think they will do anything less than something that will cost them," said Itzhak Levanon, Israel's ambassador to Egypt until last year. "They're not going to harm the basics of the peace treaty between us and them."
The civil war in Syria, meanwhile, also has altered prospects for Israel and Hamas. Some analysts said Syrian President Bashar al-Assad might seek to distract attention from the fighting in his country — and rally domestic support — by provoking Israel. But Hamas cut ties this year with its longtime sponsors in Damascus, which might lower the possibility that Syria would call on its proxy in Lebanon, the militant group and political party Hezbollah, to assist Hamas by firing rockets and missiles on Israel.
Yet even though the regional winds generally appear to be at Hamas's back — and present a looming crisis for Israel — the military operation indicates that they are not yet a source of panic for Israel, said Efraim Inbar, director of the Begin-Sadat Center for Strategic Studies at Bar-Ilan University.
"The region is much more busy with its own troubles after the Arab Spring," he said. "To some extent, we have greater freedom of action."
Israel, Inbar said, might also be looking ahead to a different conflict that it has been warning about increasingly loudly. By stunting Palestinian rocket and missile capabilities, Israel reduces the possibility that those weapons will be used to retaliate against a potential Israeli strike on Iranian nuclear sites, Inbar said.
Mediation efforts
Rather than stoking or joining the conflict, other countries in the region could end up helping to resolve it. Egypt has long played a mediating role in Gaza conflicts, and even as it was denouncing the Israeli operation this week, its officials were broadening their search for allies in the push for a cease-fire.
Morsi called Jordan's King Abdullah II on Thursday evening to ask him to help lobby U.S. and Israeli officials, the Jordanian government said. Jordan is a close U.S. ally, and it and Egypt are the only Arab states with diplomatic ties to Israel. Middle Eastern officials said Jordan could play a key role in conveying messages between the sides.
U.N. Secretary General Ban Ki-moon will travel to the region early next week to urge Israel and the Palestinians to end the violence before the situation deteriorates into a far bloodier confrontation, according to U.N. and Arab diplomats.
A senior Obama administration official said U.S. diplomatic efforts are focused on enlisting Turkey, Egypt and several key European nations to reach out to Hamas, urging the group to begin backing away from its rocket attacks.
But the official said the administration also continues to press Israel not to escalate its operation, fearing that the longer the fighting continues, the more likely it is to draw in other players in a region left even more unpredictable after two years of uprisings and revolution.
"Our message is that we cannot have this conflict drag on, as it just risks greater threat to civilians and risk of widening," the official said.
It would also risk the image of the United States, which has backed Israel's right to carry out the operation even as it struggles to form new relationships in the changing region, Hamid said.
"America is at its weakest in the Middle East when it's talking about the Israeli-Palestinian conflict," he said. "So, from that perspective, this puts the United States in a bad position even before it does anything."
Washington Post