Op Ed: Hezbollah is eating itself
It was once the symbol of resistance . Not anymore. Hezbollah's reputation as an honest defender of the weak is being destroyed, ironically not by Israel but by the party itself.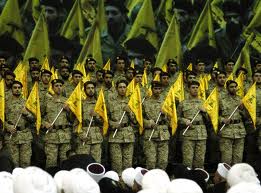 By RAGHIDA BAHNAM *
It was once the symbol of resistance for many in the Middle East. Not anymore.
Hezbollah's reputation as an honest defender of the weak is being destroyed, ironically not by Israel but by the party itself.
It is not just Hezbollah's attitude towards the Syrian revolution and its unrelenting support to the murderous regime that is damaging the party's reputation, but the whiff of corruption that keeps hanging about them.
The latest accusation of graft surrounds the Hezbollah minister of State for Administrative Reform Muhammad Fneish. His brother is accused of forging the signature of the Health Minister Ali Hassan Khalil to allow for the hugely profitable import of untested pharmaceuticals into Lebanon.
The scandal doesn't stop here. As some media outlets are reporting links between Hezbollah and the companies involved in importing the drugs.
In most countries stories like this could cause the fall of a government. But not so in Lebanon, where scandals this size have become so common people just shrug.
What is causing outrage this time though is Hezbollah's involvement.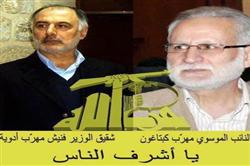 It all started in June last year when the party decided to take power after withdrawing from the national unity government.
It is the first time a Lebanese government is dominated by Hezbollah.
Before that the party leaders could sit in the opposition ranks and assign blame of corruption on March 14th, the western backed alliance led by former PM Saad Hariri.
But then they came to power.
They couldn't anymore blame March 14 for the lack of electricity supply, which got much worse under their government.
They had to stay quiet over the growing security concerns, and the rise of theft and kidnapping crimes.
So many Lebanese started to slowly discover that Hezbollah in power doesn't equal openness and transparency, but instead the same old corruption stories.
A central plank of their appeal is now gone.
What is most worrying for Hezbollah is that it is losing ground within its traditional supporters.
Reports emerged few months ago of Iran investigating fraud allegations within Hezbollah. It was related to large cash donations alleged to have been embezzled by a Hezbollah member.
Many high-ranking members in the party have long lost their sense of modesty, which has given them legitimacy in the eyes of their supporters.
The sight of party big wigs showing off fancy cars in poor Shia neighborhoods isn't going down well with fighters' families. Many do genuinely believe that their sons have joined the "resistance" to free the country from Israel and fight for the Palestinians' rights.
But they are finding themselves now receiving the bodies of their sons in boxes, at a time of no war with Israel, but an ongoing war in Syria where reports of Hezbollah fighters dying next to the regime soldiers keep emerging.
And many families can't help but wonder, even in whispers, if this is the "resistance" they signed up for.
*Raghida Bahnam is a Lebanese reporter at Al Arabiya in Dubai. She has covered international affairs, including Lebanon, from both Beirut and London and now Dubai.
Al Arabiya