Jumblatt urges Obama to try to end Arab-Israeli conflict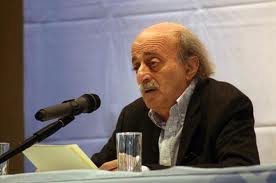 Progressive Socialist Party leader MP Walid Jumblatt  sent a cable to US president Barack Obama congratulating him   on his re-election as president of the United States, and urging him to  apply political pressure to end the Arab-Israeli conflict.
"The re-election of Obama reflects the confidence of U.S. citizens in their president and their aspiration to keep up the previously adopted polices by the U.S. administration," a  statement from Jumblatt's press office said.
Jumblatt reportedly expressed his hope that the U.S. administration will work to achieve peace in the Middle East and apply the two-state solution, based on the  1967 borders, to end the Arab-Israeli conflict.
"I hope the U.S will exercise the required political pressure to find a way out to the Arab-Israeli conflict based on the two-state solution," Jumblatt said.
The PSP leader also called on the U.S. president to support the State project in Lebanon and to strengthen the Lebanese Army in order to fulfill its patriotic duties  and responsibilities.
Jumblatt called for special relations with the US
"In the midst of the historical changes taking place in Arab countries towards democratic and human rights values, this part of the world is looking for establishing special relations with the U.S.," Jumblatt said .
Obama was re-elected last week, beating Republican challenger Mitt Romney and capping what was a fierce campaign by both candidates
Read more: http://www.dailystar.com.lb/News/Politics/2012/Nov-12/194781-jumblatt-time-to-consider-new-cabinet.ashx#ixzz2C1dWQ5uW
(The Daily Star :: Lebanon News :: http://www.dailystar.com.lb)