The woman behind CIA director David Petraeus's exit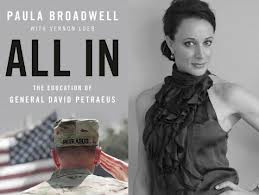 CIA Director David Petraeus resigned abruptly following reports of an extra-marital affair with a journalist. In a letter to the CIA, Petraeus acknowledged poor judgement in carrying on the affair with his biographer Paula Broadwell while in Afghanistan. He admitted it was unacceptable behaviour.
For the director of the CIA, being engaged in an extramarital affair is considered a serious breach of security and a counterintelligence threat. If a foreign government had learned of the affair, the reasoning goes, Petraeus or Broadwell could have been blackmailed or otherwise compromised. Military justice considers conduct such as an extramarital affair to be possible grounds for court-martial.
Failure to resign also could create the perception for the rank and file that such behavior is acceptable. At FBI headquarters, spokesman Paul Bresson declined to comment on the information that the affair had been discovered in the course of an investigation by the bureau.
His affair was discovered during an FBI investigation, according to officials briefed on the developments. They spoke on condition of anonymity because they were not authorized to publicly discuss the matter. Petraeus carried on the affair with his biographer, according to several US officials with knowledge of the situation. They spoke anonymously because they were not authorized to discuss the investigation that led to the resignation publicly.
The FBI discovered the relationship by monitoring Petraeus' emails, after being alerted Broadwell may have had access to his personal email account, two of the officials said. Broadwell did not respond to voice mail or email messages seeking comment.
Paula Broadwell was the valedictorian of her high school class and homecoming queen, a fitness champion at West Point with a graduate degree from Harvard, and a model for a machine gun manufacturer, a report in The New York Times said. Broadwell was hardly shy about her interactions with Petraeus as she promoted her book, 'All In: The Education of General David Petraeus', in media appearances earlier in 2012. She had unusual access, she noted in promotional appearances, taping many of her interviews for her book while running six-minute miles with Petraeus in the thin mountain air of Afghanistan.
According to her biography on the Penguin Speakers Bureau website, Paula Broadwell is a research associate at Harvard University's Center for Public Leadership and a Ph.D. candidate in the Department of War Studies, King's College London. She also has a passion for leadership and security policies.
Her Twitter description on Twitter says, "Author (All In: The Education of Gen David Petraeus); National Security Analyst; Army Vet; Women's Rights Activist; Runner/Skier/Surfer; Wife; Mom!"
Petraeus, a star on battlefield
David Petraeus was a star on the battlefield, commanding the Iraq and Afghanistan wars, but was undone by "poor judgment" in engaging in an extramarital affair that led to his downfall as CIA director. Just two days after his 60th birthday, Petraeus stepped down from the spy agency where he had held the top office since September 6, 2011.
"After being married for over 37 years, I showed extremely poor judgment by engaging in an extramarital affair. Such behavior is unacceptable, both as a husband and as the leader of an organization such as ours. This afternoon, the President graciously accepted my resignation," Petraeus told the shadow warriors he commanded at CIA.
It was a stunning downfall for a revered military man who was seen as one of the top American leaders of his generation and was once considered a potential contender for the White House. Petraeus was credited with pulling Iraq from the brink of all-out civil war and for battlefield successes in Afghanistan after overseeing a surge of 30,000 troops ordered by President Barack Obama in late 2009. He became known for counter-insurgency strategies that were seen as gaining ground against the Taliban in Afghanistan.
"I don't think he was professionally overrated. His were genuine accomplishments," said James Carafano, a war historian with the conservative Heritage Foundation think tank. At the time of his nomination to the CIA post, some Washington insiders had said the White House wanted to find a prominent position for Petraeus to ensure he would not be recruited by Republicans as a challenger to the 2012 Obama-Biden ticket.
When he was nominated to lead the CIA there were some concerns in intelligence circles that the high-profile four-star Army general might not be able to lead from the shadows as appropriate for a spy chief. But once he took over the head office at the U.S. spy agency, Petraeus kept a decidedly low public profile.
Senate Intelligence Committee Chairman Dianne Feinstein, a Democrat, expressed regret about the resignation of "one of America's best and brightest" and said it was an "enormous loss" for the country. "At CIA, Director Petraeus gave the agency leadership, stature, prestige and credibility both at home and abroad. On a personal level, I found his command of intelligence issues second to none," she said.
IBN