1 killed in Sidon, south Lebanon clash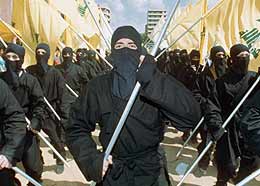 Security officials say shooting between Sunni and Shiite Muslim gunmen in Al Taamir neighborhood in Ain El-Helwe Palestinian camp resulted in the death of one man and the wounding of four others.
The officials say the clashes between followers of hardline Sunni cleric Sheikh Ahmad al-Assir and members of the Shiite militant group Hezbollah broke out after Shiite religious banners were raised in the port city of Sidon.
The officials, who spoke on condition of anonymity in line with regulations, say al-Assir's bodyguard who was identified as Libnan el Ezzi was killed in Sunday's shooting and the wounded included a Hezbollah commander who was identified as Zeid Daher.
Sectarian tensions have been rising in Lebanon in connection with the civil war in neighboring Syria and last month's assassination of a senior anti-Syrian intelligence official.
The killing of Brig. Gen. Wissam al-Hassan, a Sunni Muslim, sparked sectarian violence that killed at least 13 people.
Emergency meeting
Prime Minister Najib Mikati asked the interior minister to call for an emergency meeting of Sidon's Central Security Council, a statement by Mikati's office said.
Mikati also asked the Lebanese Army command to take the necessary measures to control the situation and arrest those involved in the incident.
"We call on everyone to remain calm and implement restraint in such a delicate situation. The authorities will not tolerate messing with the security of citizens," Mikati's statement said.
Associated press / Agencies