U.N. has "credible reports" Syria army using cluster bombs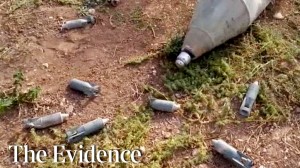 The U.N. political affairs chief told the Security Council on Tuesday of credible reports that the Syrian government has used cluster bombs and diplomats said peace mediator Lakhdar Brahimi had urged Russia to be more "pro-active" in ending the war.
Jeffrey Feltman, the U.N. undersecretary general for political affairs, made the remarks at a closed-door session of the 15-nation Security Council on Syria, U.N. envoys said on condition of anonymity.
Brahami had urged Russia at the weekend to do more to help end the war, they said.
"In his meeting with (Foreign Minister Sergei) Lavrov, Brahimi encouraged Russia to take a more 'pro-active' role in resolving the Syria crisis," a diplomat quoted Feltman as telling the council.
Russian U.N. Ambassador Vitaly Churkin declined to comment to reporters when asked about Feltman's comments.
Feltman painted a bleak picture of the state of the Syrian conflict when he addressed reporters after the council meeting. He suggested that both sides had committed heinous acts.
"There have been new reports of atrocities: a shocking video of alleged executions of captured soldiers by opposition forces, credible reports of the use of cluster bombs by the government, fighter jet strikes reportedly firing in Damascus for first time, continued shelling of population centers," he said.
Last month Syria denied a Human Rights Watch report that government forces have used cluster bombs in their battle with rebels trying to overthrow President Bashar al-Assad. It said they did not possess such weapons.
Cluster bombs are banned under a 2010 treaty, though Syria, like Israel, Russia, the United States and other producers or alleged users of cluster bombs are not parties to the pact.
The United Nations human rights office said last week that a video apparently showing Syrian rebels killing soldiers who had surrendered probably constitutes a war crime that should be prosecuted.
"The current path will lead Syria to its destruction," Feltman said. "Clearly, there is a need to shift away from the military logic that is prevailing at the moment. The solution must be arrived at through a political process. It has to be a Syrian-led process. It can't be imposed. It must bring real change and a clean break from the past."
U.N. PLEADS FOR SECURITY COUNCIL UNITY
British Ambassador Mark Lyall Grant said Feltman told the council the cluster bombs had apparently been used during air strikes.
Russia has accused Western powers of preparing a Libya-style military intervention in Syria that would lead to the ouster of Syrian President Bashar al-Assad, who is Moscow's ally and a top buyer of Russian arms. It has vowed to prevent that.
Some 32,000 people have died in Syria's conflict.
Lyall Grant told reporters he hoped Brahimi would present the council with a plan for Syria before the end of the month.
"We hope that Mr Brahimi will come with some ideas and some recommendations for council action," he said. "We believe it's long past the time when the council needs to take stronger action than the few statements and … resolutions that we have so far adopted on Syria."
Brahimi said on Sunday he hoped the Security Council would issue a resolution based on a deal they reached in June to set up a transitional government in a bid to end the bloodshed.
Speaking at the same Cairo news conference, however, Lavrov dismissed the need for a resolution, saying others were stoking violence by backing rebels – comments that highlighted the deep impasse over Syria's civil war.
Reporters asked Lyall Grant about Brahimi's call on Russia to be more pro-active in helping to end the conflict.
"I think he's hoping everyone will be more proactive," he said. "But clearly the fact that Russia and China have three times vetoed efforts by the Council to take more coercive action against the regime, there is a particular responsibility on them."
"They are supporting the Assad regime and therefore they have a particular responsibility as permanent members of the council to stop this violence," Lyall Grant added.
The Syrian government and a number of opposition groups had accepted Brahimi's proposal to hold their fire for the Islamic holiday of Eid al-Adha October 26-29 but there was hardly any lull in the fighting. Feltman told the council that jihadists bore much of the blame for breaking the truce, envoys said.
Feltman told reporters that unity on the Security Council would be key to ending the war in Syria. "Without this, our chances for success are far more limited," he said.
The Security Council has been deadlocked for more than a year on Syria. Russia and China have vetoed three resolutions condemning the Syrian government and have ruled out the idea of sanctioning Assad's government.
Reuters