Siniora: Dialoge is essential but we must respect the constitution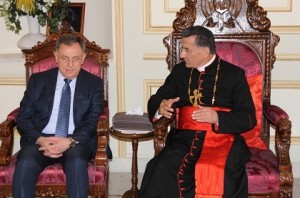 Former Lebanese PM and current  Future Movement parliamentary  bloc MP Fouad Siniora said on  Monday   after holding talks with Maronite Patriarch Beshara al-Rai  at Bkirki that dialogue is essential, but we need to return to principles and respect the constitution.
He was commenting on President  Michel Suleiman's call for dialogue
He added: "Our openness to President Suleiman is endless, but we oppose political maneuvers that waste the people's time."
"We were taking part at the national dialogue talks while others, who were also present at the meetings, were contradicting agreements reached at the dialogue and boasting about meddling in the Syrian crisis and sending a drone over Israel."
He was referring to Hezbollah's acknowledgment that it had sent fighters to Syria in recent months and a drone over Israel in early October.
Commenting on the current government  which is dominated bty Hezbollah he said
"This government is causing a problem in Lebanon that needs to be tackled."
He reiterated the need for the formation of a new government, stressing: "The constitution stipulates that there can be no power vacuum in Lebanon."
He was responding to claims that toppling the current cabinet before the formation of a new one will leave the country in a political vacuum.
"A new government can be formed at this time. We are calling for the formation of a neutral cabinet, whose members will not run in the parliamentary elections,"  Siniora explained.
"There are clear steps that indicate how to form a new government. A state of emergency can be declared in case of a vacuum," he stressed
"We want to ease the tensions because failure to do so will lead to more dangers. We want the formation of a government that will be able to stage the parliamentary elections in 2013," Saniora said
The March 14-led alliance  has been demanding the resignation of the government since the assassination of Internal Security Forces Intelligence chief Brig  General Wissam al-Hassan on October 19 in Beirut's Ashrafiyeh district.
March 14 blamed the government, of covering up the crime and announced its boycott of all government-related activity, including the national dialogue, until its demands are met.