Russia's Lavrov says Syrian rebels have 50 Stingers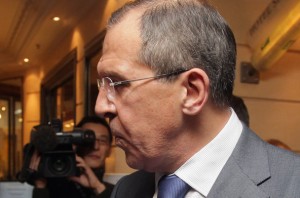 Syrian rebels under increasing attack from regime warplanes have obtained 50 Stinger shoulder-launched missiles, Russian Foreign Minister Sergei Lavrov said in Amman on Nov. 6 after talks with a top dissident.
Lavrov also stressed after his meeting in the Jordanian capital with Syria's defected former prime minister Riad Hijab that he planned to work with opposition groups to help end the conflict that has ravaged Syria for more than 19 months.
"Russia knows that the Syrian rebels have obtained 50 Stinger missiles from outside to hit (regime) jet fighters," Lavrov told reporters, according to an Arabic translation of remarks he made in Russian.
"Those who are supplying arms to the opposition are delivering systems that are not intended for defense. There is confirmed information that on Syrian territory there are over 50 Stingers," he said, as later quoted by Russia's Interfax news agency.
"You know perfectly well what Stingers are intended for, all the more so that the leaders of the (rebel) Syrian Free Army have repeatedly said that civilian planes will be a legitimate target."
Russian Chief of Staff General Nikolai Makarov in October said Syrian rebels had obtained shoulder-launched missile systems, including Stingers, made by the United States, but added it was not clear who had delivered the weapons.
At the time, the United States vehemently denied it had supplied the rebels with any lethal weapons.
The first inkling that the rebels had access to shoulder-launched weapons came in July, when U.S. broadcaster NBC News reported that the FSA had obtained two dozen Stingers, also known as MANPADS, delivered via Turkey.
Lavrov, speaking Nov. 6 at a joint news conference with Jordanian counterpart Nasser Judeh, said he had stressed in his talks with ex-premier Hijab, who defected to Jordan in August, the need to ensure that "no party exploits the situation to achieve military gain on the ground."
"I have met with Hijab, and the goal of the meeting was to find a mechanism to stop the violence in Syria and save Syrian lives," Lavrov said.
"Hijab was ready to listen to us, and we will work with him and other Syrian parties."
Lavrov also told reporters that Moscow backs the return to Syria of international monitors, while reiterating Moscow's objections to U.S.-led calls for the ouster of Syrian President Bashar al-Assad and stressing the need for dialogue between the warring parties.
In July, world powers agreed in Geneva on a plan for a transition in Syria that did not make an explicit call for Assad to quit power, although the West swiftly made clear it saw no role for him in any unity government.
However, Assad's allies in Beijing and Moscow insist that it is up to Syrians themselves to determine their future without foreign interference.
For his part, Judeh said "dialogue with Russia is important to find a solution to the crisis in Syria," where monitors say more than 36,000 people have been killed since an anti-regime uprising erupted in mid-March last year.
Lavrov, on a two-day visit to Jordan, is also due to meet separately with King Abdullah II and Palestinian President Mahmud Abbas.
Defense News