Putin fires Russian defense chief over corruption scandal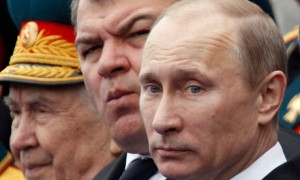 Russia's defence minister, Anatoly Serdyukov, has been unexpectedly fired by President Vladimir Putin after becoming embroiled in a corruption scandal.
Serdyukov, a former furniture salesman who pushed through reforms in Russia's conservative military establishment following the 2008 war with Georgia, was deeply unpopular in the armed forces.
Putin appeared to link Serdyukov's dismissal to a 3bn rouble (£60m) investigation into corruption at Oboronservis, a company fully owned by the defence ministry.
"Considering the situation which has arisen around the ministry of defence I have taken the decision to relieve defence minister Serdyukov of his responsibilities," Putin told Sedyukov's replacement, Moscow governor Sergei Shoigu, in comments broadcast by state television.
Last month Serdyukov was publicly implicated in a 3bn rouble (£60m) investigation into corruption at Oboronservis, a company fully owned by the defence ministry.
Criminal cases have been opened against five employees of Oboronservis who are accused of profiting from the sale of defence ministry property to commercial companies. The head of Russia's investigative committee, Vladimir Markin, said last week that Serdyukov could be questioned "if there was a need".
The president personally took the decision to remove Serdyukov, said Putin's spokesman, Dmitry Peskov, Interfax news agency reported.
The Kremlin has earmarked about £482bn for an ambitious programme of modernisation of Russia's armed forces over the next decade.
"There is a struggle for this money and Serdyukov is a victim of this struggle," said Pavel Salin, a political analyst. Most of the unpopular reforms considered necessary for Russia's military had either been carried out or set in motion by Serdyukov, he said.
In a normally stable government, Serdyukov is the second Russian minister to be removed since a new cabinet was appointed in May by the prime minister, Dmitry Medvedev. The regional development minister Oleg Govorun resigned last month after a public dressing-down by Putin.
Serdyukov's replacement, Shoigu, headed the emergency services ministry for 18 years and is considered to be one of Putin's most trusted lieutenants.
Photo: Vladimir Putin (right) personally took the decision to fire Anatoly Serdyukov (centre), according to reports.
Guardian