Rebels shoot down warplane in Eastern Syria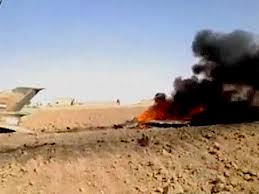 Syrian rebels on Sunday shot down a warplane in the eastern province of Deir az-Zour, the Syrian Observatory for Human Rights said, citing local witnesses.
"Rebels shot down a warplane that had been carrying out air strikes near the town of Mayadin and crashed near the town of Baqras, according to witnesses, residents and activists" the Britain-based watchdog said.
The watchdog, which gathers its information from a nationwide network of activists, lawyers and medics in civilian and military hospitals, said that there initial reports indicate the pilot had been captured.
The rebels claimed to have downed several helicopters since the beginning of the revolt against the regime of President Bashar al-Assad, which erupted in March 2011 as a peaceful uprising and steadily militarized in the face of state repression.
But they rarely managed to shoot down warplanes.
The military has increasingly relied on its superior air power to try to reverse rebel gains on the ground.
Now Lebanon