French president to visit Lebanon Sunday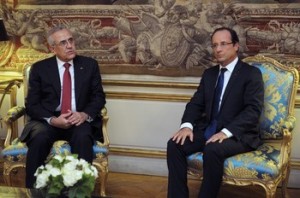 French President Francois Hollande is planning to arrive in Beirut on Sunday for a three-hour meeting with his Lebanese counterpart President Michel Suleiman, As Safir newspaper reported on Friday.
A high-ranking official at the Baabda presidential palace confirmed the report and said they will have breakfast together and then hold a press conference."
A diplomatic source told As Safir that the "significance of this visit is that it comes amid the delicate situation that Lebanon and the region are passing through."
The source told the daily that "this visit is to express France's solidarity with Lebanon and its support to the constitutional institutions in the country… as it backs Suleiman's efforts to maintain stability and security."
The source noted that France is committed to Lebanon's "security, stability, independence and sovereignty."
The assassination of Internal Security Forces Intelligence chief Wissam al-Hassan last October 19 escalated the political crisis in between the March 14-led opposition and the March 8 alliance.
Suleiman is trying to ease the tension by promoting for resumption of the national dialogue talks however, the opposition is insisting on the resignation of the cabinet as a main condition before any dialogue talks.
This is Hollande's first trip to Lebanon as the head of the state.
Photo:French President Francois Hollande (R) and his Lebanese counterpart Michel Suleiman take part in a meeting at the Elysee presidential Palace in Paris, on July 12, 2012. AFP PHOTO / POOL / PHILIPPE WOJAZER