Nobel laureate warns of 'somalisation' of Syria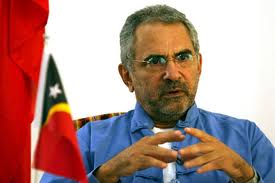 The man who helped bring independence to East Timor saw a dangerous mix in Syria, saying the rebels lacked democratic credentials and President Bashar al-Assad was determined to fight for the survival of himself and his community.
"It is becoming a vicious civil war involving many – too many – outside interests, governments and non-state interests," Jose Ramos-Horta said on a visit to the US.
"We are going to see a prolonged civil war, almost a Somalisation of Syria, but in a much more dangerous region of the world. Unfortunately I cannot see a better scenario," he said.
Somalia has been bereft of a central government and torn by fighting for two decades. Ramos-Horta said another parallel to Syria was the Iran-Iraq War, with the 1980-1988 war leaving more than one million dead and ending "only when both sides were exhausted".
Ramos-Horta, who has been active on international peace initiatives, said the US and European nations were right to treat Syria's opposition cautiously. But he said it was "too simplistic" to pin blame on Russia and China, which have blocked Western-led UN bids to pressure Assad.
Assad has ample firepower and there is "no incentive for the regime to back down" after witnessing the killing of Libyan leader Muammar Gaddafi and the prosecution of Egypt's deposed president Hosni Mubarak, he said.
Chance for change
Ramos-Horta said that the only chance for change in Syria would come from the military, calling it instrumental in pushing out strongmen such as Mubarak and Suharto in Indonesia as well as allowing recent reforms in Myanmar.
"I was hoping that in Syria, countries like Saudi Arabia, Qatar and the others, instead of adding fuel to the fire, were to make a greater effort to entice the military to do the honourable thing – and that is to tell Assad time to go," Ramos-Horta said.
The Sunni monarchies of Saudi Arabia and Qatar have been widely reported to be providing weapons to Syria's rebels at the forefront of an initially peaceful push to end the four-decade rule of the Assad family, which hails from the heterodox Alawite community.
President Barack Obama's administration has urged Assad to step down but said that it is only offering non-lethal assistance to the rebels, despite calls by some members of the rival Republican Party to arm the opposition.
Ramos-Horta voiced concern over revenge attacks on Alawites, saying that centrists in the opposition "will be cast aside, eaten up, swallowed by the revolution, even considered to be traitors for trying to pursue a prudent and moderate path."
"Unfortunately, not everybody thinks like the Indonesians or like us … that we have the ability of letting bygones be bygones," he said.
Dozens of attacks
Syrian air force planes on Monday launched dozens of attacks from Damascus to Aleppo as the truce declared for the Eid al-Adha Muslim holiday ended as it began – in violence.
Opposition activists reported 48 air strikes in a few hours while the UN and Arab League envoy, Lakhdar Brahimi, admitted that the four-day ceasefire had failed. "The situation is bad and getting worse," he told reporters in Moscow after talks with the Russian Foreign Minister Sergei Lavrov. Russia is Syria's closest and most supportive ally at the UN.
Air raids were reported overnight from the Damascus suburbs of Qaboun, Zamalka and Irbin and described by residents as the heaviest since planes and helicopters first bombarded pro-opposition parts of the Syrian capital in August.
In Jermana, near Damascus, a car bomb killed 11 people, including women and children, and injured 50 others, Syrian state media reported, blaming "terrorists" for deliberately breaching the truce.
Fighting was also reported from Homs, Idlib and Deir al-Zour on the Iraqi border.
The truce, for Eid al-Adha, the Muslim feast of the sacrifice which marks the end of the annual hajj pilgrimage to Mecca, began on Friday morning. An estimated 400 people have died during it. The Syrian Observatory for Human Rights said 110 people were killed on Sunday alone. Of those, 39 were civilians, 34 armed opposition fighters and 35 members of the state security forces, said the UK-based group.
Warring parties
Shelling and car bombings resumed hours after the ceasefire had been due to take effect on Friday, with each side blaming the other for breaking it.
Its chances seemed poor from the start in the absence of enthusiasm from the warring parties or any independent mechanism for monitoring and enforcement.
Brahimi, the veteran Algerian diplomat who succeeded Kofi Annan as the international Syria envoy in September, said he was continuing his mission despite the grim situation. "I have said and it bears repeating again and again that the Syrian crisis is very, very dangerous, the situation is bad and getting worse. If it's not a civil war, I don't know what it is."
Brahimi is to go to the UN Security Council in November with new proposals to push for talks between al-Assad and the opposition. He is also due to visit China on Tuesday. Beijing has followed Moscow in blocking any action against Syria at the UN.
Brahimi had hoped that the Eid truce might lead to a longer-term ceasefire and pave the way for a political solution of the conflict that has claimed 35 000 lives, according to opposition groups.
Its failure points to the determination of the regime to continue its security strategy and to what many see as the dangerous fragmentation of the anti-Assad forces. "It's not just about the Syrian military and the army defectors who form the backbone of the Free Syrian Army rebel group anymore," said Hassan Abdul-Azim, of the Damascus-based National Co-ordination Bureau. He told reporters that there were so many foreign fighters and other external factors involved in Syria that only an agreement among international and regional powers could end 19 months of fighting.
'Political process'
Lavrov said Moscow was also "disappointed" that the ceasefire was not respected but said there was no point disputing who breached it. He emphasised Russia's position that the crisis will be resolved once western powers and neighbouring countries such as Turkey start negotiating with Assad, not just the opposition. "Hardly anything will be accomplished without dialogue with the [Syrian] government, and that is the only problem that remains in the path towards a political process," he said.
Moscow has repeatedly criticised western powers for what it says are obstructions of peace efforts in Syria. Last week it alleged the US was co-ordinating arms deliveries to the rebels, which the state department has called "ludicrous".
Ban Ki-moon, the UN secretary general, said he was "deeply disappointed" that the fighting had not stopped. "This crisis cannot be solved with more weapons and bloodshed. The guns must fall silent."
Syrian opposition figures, including FSA commanders, started three days of talks in Istanbul on Monday in the latest attempt to unite disparate groups.
In a separate development, the Turkish military fired back after a shell from Syria landed near the village of Besaslan in the southern province of Hatay, state media said, amid clashes between Syrian soldiers and rebels in the nearby border town of Harim. Five Turks were killed by Syrian fire on October 3.
Mail and Guardian News