MP Saqr heads to Turkey to mediate Itani's release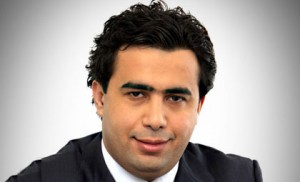 Former PM Saad Hariri dispatched MP Okab Saqr to Turkey to try and mediate the release of a Lebanese TV reporter who was kidnapped by the Syrian rebels , al Jamhouriya newspaper reported on Monday.
Lebanese reporter Fidaa Itani who was detained over the weekend by Syrian rebels appeared to be in good health in a video footage posted on Sunday.
"I am the reporter Fidaa Itani. I am under house arrest by the Northern Storm Battalion in Azaz … and I am fine," Itani said in a 20-second clip posted on the Facebook page of the Azaz Northern Storm Battalion.
A statement on the Facebook page of the rebels said that Itani is in good health and will be freed shortly: "We would like to reassure Itani's family that their son is in good health and he is being treated in a civilized manner befitting of the Syrian revolution and its principles …anyway he will be freed in a few days ."
According to the statement, Itani's arrest is not related to his nationality, opinions or political affiliation, but due to security clearance related to his work
"Preserving the security and privacy of the revolution is one of our primary goals " the statement added.
Itani works for LBCI television and is known for his staunch support for the rebels fighting to topple Syrian President Bashar Assad.
Lebanon's Media watchdog Samir Kassir Eyes (SKeyes) called for Itani to be freed on Sunday: "SKeyes denounces the detention of journalist Fidaa Itani and asks for his immediate release, " adding that "the rebels themselves have not accused Itani of anything, thus there is no logic behind his continued detention."
The Local Coordination Committees in Syria called on rebels in Aleppo to work on releasing Itani, saying that freedom of opinion and media were among the first principles that the people of Syria are revolting for.
"The Local Coordination Committees in Syria stresses that acts of kidnapping and arrest based on suspicion carried out by some brigades of the Free Syrian Army, particularly those targeting reporters and members of media are unacceptable," the group said on its Facebook page.