Lebanese PM says resignation 'out of the question'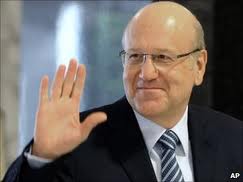 Lebanon's prime minister says his resignation is "out of the question" after raising the possibility following the assassination of a top intelligence official last week.
Prime Minister Najib Mikati's comments come at a time of growing political and sectarian tensions caused by the civil war in neighboring Syria.
Many in Lebanon blamed Syria and its Lebanese ally Hezbollah for the Oct. 19 car bomb attack that killed the intelligence chief Wissam al-Hassan. Lebanon's opposition has demanded the resignation of Mikati's Hezbollah-dominated government, saying it is too cozy with the Syrian regime.
Mikati initially said he is not clinging to his job.
But the premier told local broadcaster MTV on Saturday that his resignation would set off a new crisis, a reference to a power vacuum. Mikati's website also carried the remarks.
Associated Press