Iran claims its drone Technology is more Advanced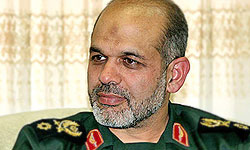 Iran's Fars News Agency quoted Iranian Defense Minister Brigadier General Ahmad Vahidi on Sunday as saying that Iran's drone technology is much more advanced than the one Hezbollah recently used for penetrate the Israeli airspace.
"Definitely, the drone which recently flew over the occupied lands (Israel) and astonished the world was not the product of Iran's latest technology," Vahidi stressed.
"The Islamic Republic of Iran is now in possession of Unmanned Aerial Vehicles (UAVs) with much more advanced technology than that of the drone which was flown in the sky of the occupied territories by Hezbollah forces," Vahidi underscored.
Vahidi said that Hezbollah's move was a heavy blow to the Israeli regime, but did not explain why he is sending Hezbollah inferior quality drones.
Big surprise
Lebanon Minister Nazem Khoury who represents president Michel Suleiman in the cabinet told Voice of Lebanon on Saturday that "Hezbollah's Ayoub drone was a big surprise to all of us in Lebanon including the president ". He added: President Suleiman made his comments on this basis and that is "it is necessary to adopt a clear defense strategy that would spare us from the futile discussions whenever Hezbollah does something controversial."
Under Suleiman's proposal, Hezbollah would be allowed to keep its weapons, but the decision to use them will be only by the Lebanese government and under the command of the Lebanese army.
Reckless provocation<
U.N. Secretary-General Ban Ki-moon called Hezbollah's drone launch into Israeli airspace a "reckless provocation" in a report submitted October 18 to the Security Council.
Risky mission
Former Prime Minister Saad Hariri criticized Hezbollah's decision to send a drone into Israel, describing it as an "uncalculated adventure."
"I welcome President Michel Suleiman's approach that reflects deep concern that is shared by all of the Lebanese with regard to the uncalculated adventures Hezbollah wants to drag Lebanon into," Hariri said in a statement issued to An-Nahar newspaper on October 14.