MP Tabbara: We demand a neutral cabinet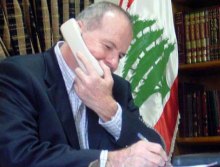 MP Mohammad Tabbara responded to Progressive Socialist party leader MP Walid Jumblatt by saying:" Kamal Jumblatt was also the martyr of Lebanon but also was the martyr of the Druze community", adding : "We demand a neutral cabinet that represents all the Lebanese people"..
Kamal Jumblatt, father of the PSP leader was assassinated in March 1977. As in the case of Internal Security Forces intelligence chief Wissam al-Hassan, who was assassinated last Friday, Syria was accused of being behind his murder.
In an interview on LBC TV Thursday evening Jumblatt said that in order to avoid a political vacuum in Lebanon his ministers will not quit from the current government .
Jumblatt also criticized the attempt by March 14 supporters to break into the Grand Serail on Sunday following Hassan's funeral and called it a "mistake," and expressed regret that the funeral took on a sectarian dimension.
"He was working for the interest of Lebanon's security. It was wrong to give the funeral a sectarian dimension." Jumblatt   said
"The biggest mistake was in considering Hassan as the martyr of the Sunnis. He is the martyr of Lebanon as a whole," jumblatt added.