Damascus car bomb kills six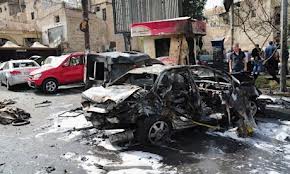 A car bomb in southern Damascus killed six people on Wednesday, state television said, as international mediator Lakhdar Brahimi pushed for a temporary ceasefire in Syria.
"The terrorist explosion caused by the car bomb in Daf al-Shok caused the martyrdom of six citizens and 20 wounded," the television said.
The head of a Syrian rebel brigade in Damascus said the suicide bomb was carried out by an Afghani with ties to al Qaeda.
"The car bomb was a suicide attack carried out by an Afghani from al Qaeda in the name of Tawhid wal Jihad," he told Reuters, referring to the Jihadist Salafi group with an Islamist ideology shared by al Qaeda.
The rebel leader, who said his unit provides logistical support to Tawhid wal Jihad, said that the bomb was a "present" to President Bashar al-Assad and his loyalist militia for the upcoming Muslim holiday of Eid al-Adha.
Syria said on Wednesday its military command was still studying a proposal for a holiday ceasefire with rebels and divided rebel groups gave mixed messages on whether they would respect a truce which would start on Thursday.
Reuters