Massive Car Bomb in Beirut Kills Top Security Official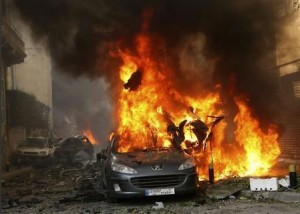 A huge car bomb explosion in Beirut on Friday killed a top Lebanese security official whose investigations implicated Syria and Hezbollah in the assassination of former Lebanese prime minister Rafik al-Hariri seven years ago.
The rush-hour bomb in the centre of the Lebanese capital killed eight people and wounded about 80 others, heightening fears that Syria's war is spilling over into Lebanon.
Among the dead was Wissam al-Hassan, the head of a Lebanese intelligence agency who had also uncovered a recent bomb plot that led to the arrest of a pro-Syrian Lebanese politician, a Lebanese official said.
Al-Hassan was a close aide to Hariri, a Sunni Muslim who was killed in a 2005 bomb attack in downtown Beirut. Al-Hassan's investigation into Hariri's death uncovered evidence that implicated Syria and Hezbollah in the killing.
Friday's bombing, reminiscent of grim scenes from Lebanon's own 1975-1990 civil war, was seen as being linked to the heightened tension between Lebanese factions on opposite sides of the conflict in Syria.
The explosion ripped through the street where the office of the anti-Damascus Christian Phalange Party is located near Sassine Square in Ashrafiyeh, a mostly Christian area.
Phalange leader Sami al-Gemayel, a staunch opponent of Syrian President Bashar al-Assad and a member of parliament, condemned the attack.
"Let the state protect the citizens. We will not accept any procrastination in this matter, we cannot continue like that. We have been warning for a year. Enough," said Gemayel, whose brother was assassinated in November 2006.
The war in Syria, which has killed 30,000 people in the past 19 months, has pitted mostly Sunni insurgents against Assad, who is from the Alawite sect linked to Shi'ite Islam.
Lebanon's religious communities are divided between those supporting Assad and those backing the rebels trying to overthrow him.
The blast occurred when parents were picking up children from school, and sent black smoke billowing into the sky.
Eight people were killed and at least 78 were wounded, the state news agency said, quoting civil defense officials.
Several cars were destroyed and the front of a multi-storey building was badly damaged, with tangled wires and metal railings crashing to the ground.
SCENES REMINISCENT OF DARK DAYS
In the aftermath, residents ran about in panic looking for relatives while others helped carry the wounded to ambulances. Security forces blanketed the area.
Ambulances ferried the wounded to several hospitals, where doctors, nurses and students waited for casualties at the doors. At one, an elderly woman sat in the emergency room with blood staining her blouse.
The hospitals put out an appeal for blood donations.
An employee of a bank on the street pointed to the blown-out windows of his building.
"Some people were wounded from my bank. I think it was a car bomb. The whole car jumped five floors into the air," he said.
Michael Fish, 25, a British musician visiting Beirut, said he was in his hotel a street away when the explosion happened.
"At first I thought it was an earthquake. It shook the whole hotel for a second."
Lebanese Prime Minister Najib Mikati said the government was trying to find out who carried out the attack and those responsible would be punished.
The prospect that Syria's war might spread to Lebanon has worried many people here and fighting broke out in February between supporters and opponents of Assad in the northern city of Tripoli.
Syria has played a major role in Lebanese politics, siding with different factions during the civil war. It deployed troops in Beirut and parts of the country during the war and they stayed until 2005.
In Damascus, Syrian Information Minister Omran al-Zoabie told reporters: "We condemn this terrorist explosion and all these explosions wherever they happen. Nothing justifies them."
Tension between Sunnis, Shi'ites and Christians in Lebanon has continued after the civil war but has increased with the Syria conflict erupted.
"CANNOT BE ISOLATED FROM SYRIA"
Nabil Boumonsef, a columnist at the Lebanese newspaper An-Nahar, said: "They warned of the implications of the Syrian crisis and here it comes. Who did it and why nobody knows but what is certain is that it cannot be isolated from what is happening in Syria."
"The explosion shows that Lebanon cannot be safe and peaceful in the middle of this situation boiling around it."
Sunni-Shi'te rivalry hit a peak when former Prime Minister Rafik al-Hariri, a Sunni, was killed in 2005. Hariri supporters accused Syria and then Hezbollah of killing him – a charge they both deny. An international tribunal accused several Hezbollah members of involvement in the murder.
Hezbollah's political opponents, who have for months accused it of aiding Assad's forces, have warned that its involvement in Syria could reignite the sectarian tension of the civil war.
Sarkis Naoum, a columnist on Syrian affairs at an-Nahar said: "This is all interlinked to the sectarian and political conflict, and the conflict among intelligence services in the region. The aim of this is to spoil things."
Bombings were a hallmark of the civil war but the last such attack in Beirut was in 2008 when three people were killed in an explosion which damaged a U.S. diplomatic car.
Beirut has undergone massive reconstruction to repair the damage from the civil war and in recent years has enjoyed a tourist boom, boosted by Beirut's pulsating nightlife. That is now also under threat.
Reuters