Geagea says 'unacceptable' to re-elect Berri as speaker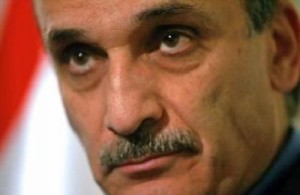 Lebanese Forces leader Samir Geagea told Al-Akhbar newspaper in remarks published on Thursday that Nabih Berri could not remain the speaker of parliament after the upcoming elections.
"Despite our respect towards him, we cannot accept Berri as speaker of parliament due to his current political alignment," Geagea said
Geagea said that he had discussed this issue with Social Affairs Minsiter Wael Abu Faour, and both agreed that following the upcoming parliamentary elections "it would be unacceptable to return to what was done in 2009," when Berri was reinstated as speaker.
Asked whether he decided to nominate after the upcoming elections former MP Mohammad Abdel Hamid Baydoun as speaker, Geagea said: "That is not true. We haven't tackled this issue. We said that we want a speaker of parliament who is in harmony with the new majority and a new harmonious government."
Lebanese leaders are currently debating the best electoral law to be adopted for the next parliamentary elections in 2013.