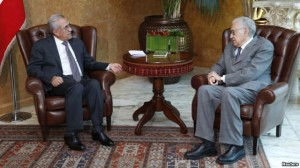 The U.N.-Arab League special envoy for Syria said Wednesday that Syria's civil war could spread across Middle Eastern borders into an "all-consuming conflict" unless the violence is eventually contained.
The veteran Algerian diplomat, who played a major role in negotiating an end to Lebanon's civil war in 1989, said at a Beirut news conference that it is imperative a cease-fire be worked out in Syria.
Brahimi said it will be impossible to contain the crisis within Syria's borders forever. Either the crisis will be stopped, he said, or it will get bigger and spread to other parts of the region.
Brahimi said Syrian opposition leaders had told him that they would "respond positively to any cease-fire announcement by the government," and that he hoped to broker one before Islam's upcoming Eid al-Adha festival.
He said other regional states, as well as the United Nations and the Arab League, have roles to play in brokering such a cease-fire, but that the Syrians themselves need to be the principal instigators.
Syrian Foreign Ministry spokesman Jihad Makdissi said Syria is "waiting for Brahimi to come to Damascus" to assess the possibility, and "hopes he is bringing positive elements." CNN reported that Brahimi is expected in Syria late Wednesday.
Analysts skeptical
Middle East analyst Timor Goksel, a former U.N. spokesman who teaches at the American University of Beirut, said he does not think Brahimi has a specific plan to end the crisis, but that he is sounding out the important players in the region.
"The only traction that will count in this whole thing is Iran and Russia and I don't know what he got from those places," Goksel said. "The others are not really important. The others are sort of touching base and hearing a general view, but what we have to look for is what he got, if anything, from Russia and Iran."
Russian Deputy Foreign Minister Mikail Bogdanov downplayed Brahimi's mission during comments in Moscow Wednesday, saying that Brahimi did "not have any specific peace plan to resolve the conflict."
Middle East scholar Fouad Ajami of the Hoover Institution in California said Brahimi is unlikely to achieve a breakthrough in the Syria conflict, any more than his predecessor, former secretary-general of the U.N. Kofi Annan.
Ajami said "there is nothing new in the diplomatic arena about Syria" and that the Syrian people "are on their own for the most part and know it." He said that Syrian President Bashar al-Assad has "managed to defy the [world] powers" as well as NATO, and that the only factor that might change the equation is more forceful action "by the U.S., Turkey or the Arab states."
Fighting in Syria continued Wednesday.
Rights groups said rebels shot down a Syrian military helicopter as troops fought to retake the northwestern town of Maaret al-Numan along the Damascus-Aleppo highway.
The U.N. envoy's visit to Beirut is the latest foray in what has been a marathon negotiating mission during the past week. That mission has taken him to Turkey, Iran, Saudi Arabia, Iraq, Egypt and now Lebanon.
VOA