Gemayel: Number of registered expat voters 'not credible'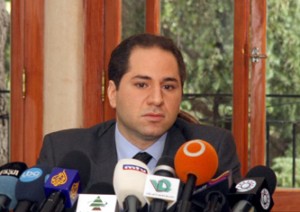 Phalange party MP Sami Gemayel questioned on Friday the number of registered expat voters provided by the Lebanese Foreign Ministry and called them " not credible".
"I do not believe the numbers provided by the Foreign Ministry concerning expat voters," Gemayel told MTV, adding: "No rational person could believe that there are zero Lebanese expats living in Canada who want to cast their vote."
Gemayel also warned that "some within the cabinet do not want the Lebanese expats to take part in the elections."
Gemayel comments come after Lebanese Foreign Minister Adnan Mansour said on Thursday,that 3009 Lebanese voters have registered for expat voting, adding that 7000 others have expressed their readiness to do so.
There are more Lebanese living abroad than in Lebanon. In Canada the number of Lebanese is around 450,000… in Brazil there are 6-8 million people of Lebanese origin while the total population of Lebanon is 4 millions .
Religiously, descendants of Lebanese Christians comprise the overwhelming majority of Lebanese people worldwide, according to some estimates, outnumbering Lebanese Muslims (both Sunni and Shiites ) at a 3:1 ratio, and concentrated principally in the diaspora.
Here is the list of cities and number of registered voters as provided by the foreign ministry:
State or City / number of registered voters
Istanbul 19
Indonesia 15
Detroit 77
Oman 181
New York 110
Washington 132
Los Angeles 9
France 742
Montreal 0 Canada
Ottawa 0 Canada
Brussels 117
Bogota 20
Bucharest 16
Britain 20
Austria 20
Canberra 11
Sydney 1
Prague 10
Buenos Aires 0
Tunisia 12
Rio de Janeiro 0
Freetown 519
Caracas 5
Conakry 89
Manama 29
Senegal 161
Asuncion 0
Madrid 70
Kuwait 23
Angola 0
Zambia 0
Mozambique 0
Zimbabwe 92
Malawi 89
Botswana 18
Namibia 16
Marseille – France 37
Guinea 63
Dubai 14
Melbourne 50
Kuala Lumpur 1
Switzerland 17
South Africa 0
Jeddah 0
Doha 21
Vienna 63
Kazakhstan 25
Stockholm 84
Sofia 6
Abidjan Cote – d'Ivoire 6
total : 3009 registered voters