Standard of political rhetoric in Lebanon is in decline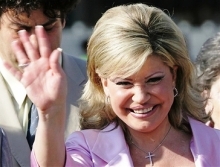 In recent years, there have been many complaints that the standard of political rhetoric in Lebanon has been in decline.
This phenomenon has taken place on a few different levels. On many occasions, one hears a generic type of foul language, or very insulting words and terms, tossed around by politicians. Another complaint has been the increasing resort to accusations that a politician from either camp A or B is guilty of treason – people become uneasy when they hear the term "foreign agent" tossed around without any serious attempt to show that this is actually the case.
But then there is the recent incident involving May Chidiac, the former, long-time news presenter with LBC. The rumor mill has it that Chidiac, a staunch member of the March 14 movement, will make a run for Parliament next year in Kesrouan. There are two images that have been making their way around social media. In one, Chidiac is seen delivering a speech, and the caption says that her supposed candidacy would violate the Constitution, because Kesrouan is allocated five seats in Parliament, and not four-and-a-half.
If anyone needs reminding, another photo shows that Chidiac is a double amputee.
It is an unprecedented type of viciousness that has emerged, and the source would appear to be Internet sites that are followers of the Free Patriotic Movement of Michel Aoun.
In the past, and particularly before the Civil War, Lebanon had a host of colorful politicians – Camille Chamoun, Saeb Salam, Kamal Jumblatt and a host of others – who would regularly engage in verbal pyrotechnics with each other.
But in general, watching and listening to them battle with each other was a pleasurable experience. Some of these giants were no stranger to foul language, but they had the self-control, most of the time, to keep such expressions private.
In the Chidiac incident, Aoun himself might not have been the person behind the posts, but he is the person who sets the example. He has a history of resorting to the kind of vulgar rhetoric and vicious personal attacks on anyone who dares to disagree with him; this encourages his followers to do the same, and they end up mocking a person's physical disability. Instead of respecting a person who has been subjected to an assassination attempt because of her political affiliation, there is the spectacle of actually taunting Chidiac because of the price she paid.
One is fully free to disagree with her, and engage in a heated argument with her, provided that the issue at hand is a political stance, or significant opinion.
The posts are something that stains the entire political class, as well as the country's reputation. Lebanon is already suffering enough from its entrenched racism to see this kind of behavior.
The entire political class should act immediately to ensure that such methods of political attack are off-limits. As for the FPM, it should hold accountable those individuals involved who occupy certain official positions, and issue the kind of denunciation that ensures it won't happen again.
The Daily star